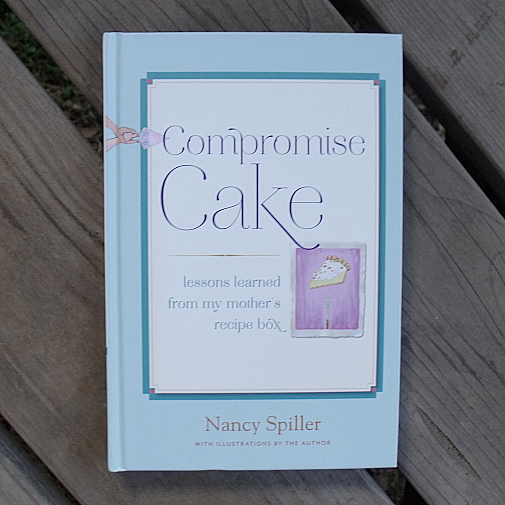 Compromise Cake is a beautiful book that is both memoir and cookbook. You'll want to read it, try out the recipes and it just may inspire you to go on a similar journey with your own mother's recipes.
After her mother passed, Nancy Spiller went through her mom's old recipe box. This brought back childhood memories of times that they shared cooking and eating together. She also learned new things about her mother and gained new understanding of the things she experienced as a child.
The story is warm and personal. It is a pleasure to read and I found many recipes that I'd like to try.
Compromise Cake

Lessons Learned from my Mother's Recipe Box
by Nancy Spiller
isbn 978-1619021129
Pub. date 11/12/13
Description: "When Nancy Spiller discovered her late mother's teaching credential buried in the midst of a long abandoned recipe box, she felt compelled to investigate the lingering mysteries of this troubled woman. Her mother had taught for only one year before marrying, having four children and a life surrendered to mental illness, divorce and social withdrawal. Spiller realized that she had probably been her mother's best and only student in the kitchen they had shared. COMPROMISE CAKE explores Spiller's life in the suburbs of Northern California in the 1960s, learning to cook by her challenging mother's side, as remembered through the recipe box's mid-century and heirloom offerings of "Compromise Cake" and "My Man Cookies". "
CONNECT – You can like the author on Facebook. She will be having a Facebook contest 12/4-12/20.
Enter daily through the Rafflecopter form below: