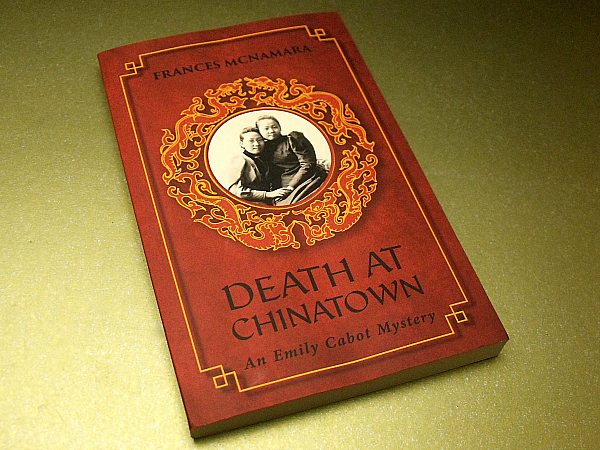 Do you like a good mystery? I do!
Death at Chinatown is part of a unique detective series set in the past. This is the 5th Emily Cabot mystery. I hadn't read the others and was able to jump right into the story and would now love to read more of Frances McNamara's books.
The novel is fiction, but is historically based. Some of the characters were real people and the setting and themes put this novel in the realm of 'could have actually happened this way.'The story is set in 1896 and has a female detective and females as lead characters in the mystery. While we are being entertained, we'll see how race, gender, immigration and culture impacted US society in the 19th Century. Many of these issues are relevant today. It's interesting to see how far we have come and how much we remain the same.
Death at Chinatown is a fun read for those of us who like mystery and historical fiction.

Death at Chinatown

Emily Cabot Mysteries
by Frances McNamara
isbn 978-0989053556
Pub. date 8/6/14
Description: "In the summer of 1896, amateur sleuth Emily Cabot meets two young Chinese women who have recently received medical degrees. She is inspired to make an important decision about her own life when she learns about the difficult choices they have made in order to pursue their careers. When one of the women is accused of poisoning a Chinese herbalist, Emily once again finds herself in the midst of a murder investigation. But, before the case can be solved, she must first settle a serious quarrel with her husband, help quell a political uprising, and overcome threats against her family. Timeless issues, such as restrictions on immigration, the conflict between Western and Eastern medicine, and women¹s struggle to balance family and work, are woven seamlessly throughout this riveting historical mystery."
Enter daily through the Rafflecopter form below: