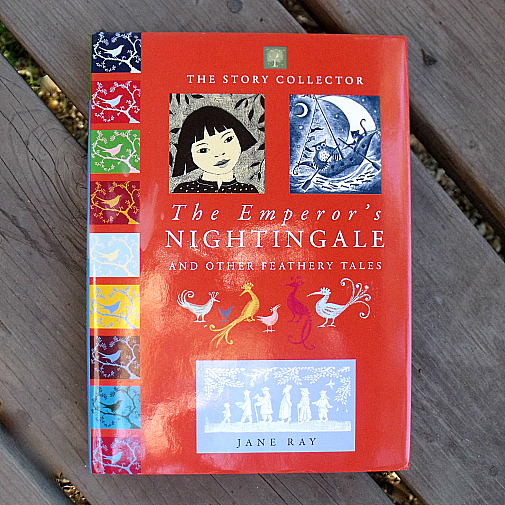 This beautiful book is wonderful for kids who like to use and expand their imaginations. I can remember reading similar books when I was a child. It really helped me develop a lifelong love of reading.
The Emperor's Nightingale and Other Feathery Tales is a collection of 12 classic tales from around the world. As the title indicates, each of the stories features a bird. Jane Ray has beautifully illustrated the stories with images that bring the them to life and encourage minds to wander in imaginative ways.
The stories will probably be all new to your children, but will recognize some of them:
The Happy Prince

Mulungu Paints the Birds
The Owl and the Pussycat
Noah's Ark
Hope is the Thing with Feathers
The Golden Swan
Jorinda and Joringel
Heron and Hummingbird
The Emperor's Nightingale
The Jackdaw of Rheims
The Firebird
Magpie Song
The stories are recommended for ages 5 and up. If your child is already reading, they may devour the book on their own. Otherwise, it is a great bedtime story selection to be read aloud.
The Emperor's Nightingale and Other Feathery Tales

The Story Collector
by Jane Ray
isbn 978-1907152900
Pub. date 10/1/13
Synopsis: "With this extraordinary collection of stories—each featuring a bird as a central character—Jane Ray has crafted a special gift for children who love to read and be read to. Ray, an internationally renowned picture book artist, retells and stunningly illustrates a rich variety of tales from around the world. Some, like Oscar Wilde's "The Happy Prince," are beloved; others, like the charming African myth, "Mulungu Paints the Birds," will become new favorites. The writers include the Brothers Grimm, Hans Christian Andersen, Edward Lear, and more. Jane's writing style simply glides along, revealing tales of wonder, magic and mystery."
CONNECT – You can follow Sterling Books on Twitter.
Enter daily through the Rafflecopter form below: