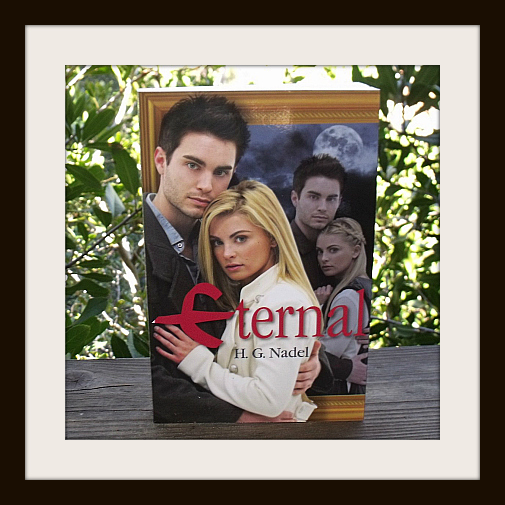 Here's my little confession. Even though it's been quite a few years since I've qualified as a young adult, I thoroughly enjoy reading YA books. The books are written at an adult reading level, but the content is typically a bit more 'family friendly' and less R Rated than similar non-YA novels. I know I'm not the only adult who enjoys this genre.
The story is full of drama, romance and mystery. It's easy to quickly get involved with the character's "lives" and feel personally connected to them. They are likable and seem like real people that I could know in real life even though they are fiction.
These characters do have a little secret. I don't like to give out spoilers and normally don't want to hear them myself, but in this case there is a secret that I liked knowing ahead of time. It added to the story and I was glad I knew. It allowed me to pick up on some things that I may have otherwise missed. IF you are ready for a spoiler, you can get it in the full book description.
Eternal is a fun escape. I hope that we'll be seeing more from H.G. Nadel.
Eternal

by H.G. Nadel
isbn 978-1-937458-19-5
Pub. date 1/2/13
Description: "Julia Jones is an eighteen-year-old science prodigy with a big secret. After landing a prestigious internship with brilliant but eccentric Dr. Caleb Bertel, she is finally ready to move on from her mother's death. But after Julia revives Dr. Bertel from a near-fatal electrocution, strange things start to happen. Without warning, Dr. Bertel disappears. Then Julia receives threatening notes on her car, and someone has her followed. The young police officer assigned to the case, Austin Moore, believes the events are connected and asks her to help him solve the mystery of Bertel's disappearance. Instantly attracted to him, Julia agrees. Still, she knows that she has seen Austin somewhere before, if only she could put her finger on it."
CONNECT – You can like Eternal Book and Sourced Media on Facebook.
Enter daily through the Rafflecopter form below: