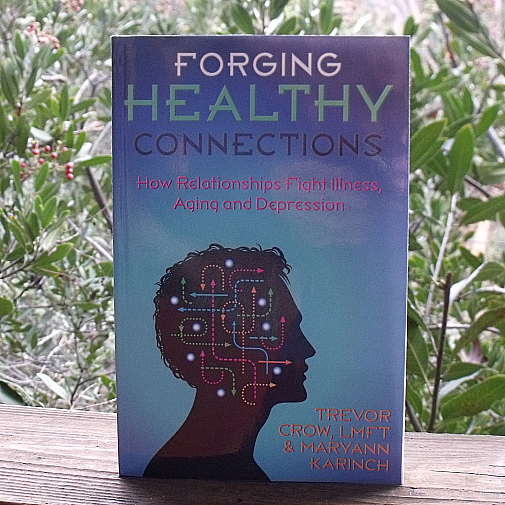 Friendships and positive relationships are an important part of life. Now we know that it doesn't just make life more enjoyable. These relationships can actually help us live a longer and healthier life. A lack of good relationships or bad relationships can harm our health.
Forging Healthy Connections can help give you the tools to maintain and improve your health, so that you can enjoy life more now and for years to come.
The book contains practical advice that can easily be applied. It also gives details and explanations so that you can understand why. This isn't just 'fluff.' This is solid help that makes sense.
Trevor Crow is a licensed marriage and family therapist with a weekly radio show. Maryann Karinch is an accomplished author who specializes in non-fiction books about human behavior. Their skills combine nicely in this informative and practical book.
Forging Healthy Connections

How Relationships Fight Illness, Aging and Depression Paperback
by Trevor Crow and Maryann Karinch
isbn 978-0882824529
Pub. date 10/29/13
Description: "Marriage and family therapist and talk show host Trevor Crow and writer Maryann Karinch explore the ways to gain a powerful weapon to help fight illness and depression, speed recovery from serious sickness, slow aging and prolong life. The weapon is a circle of friends. The authors show how this can create an emotional safe haven that directly and positively impacts our lives and health. Here is a roadmap laying out the pathways to examine trust issues, explore the reciprocal effects, show us techniques of empathy and achieve and maintain healthy personal relationships that will ultimately lead us to destinations and connections where fulfillment lie even in today's impersonal digital age."
Enter daily through the Rafflecopter form below: