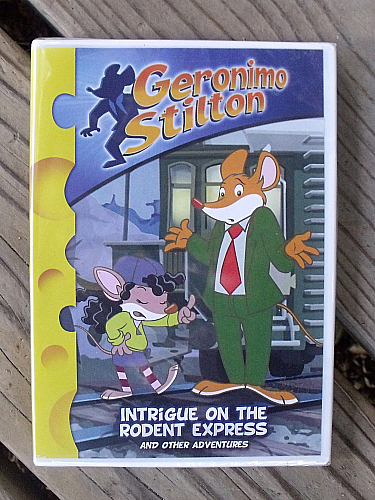 Geronimo Stilton began as a children's book series in Italy. The stories quickly caught on and the books are now available in English and dozens of other languages. It's now been made into a TV series that brings the action and adventure of the original books to life.
Geronimo is a mild mannered journalist who gets into all kinds of adventures that are not mild mannered at all. He's a quirky and entertaining character who teaches kids that it's ok to be smart and to step outside of their comfort zone.
The books are recommended for kids ages 6-12. The DVD will also work for younger kids who will enjoy the episodes even though they don't have the reading skills needed for the books.
Geronimo Stilton:
Intrigue on the Rodent Express

Rated G
Release date 2/4/14
Synopsis: "The famous New Mouse City journalist, best-selling author and editor for the big city daily, "The Rodent's Gazette", would prefer to do nothing more than to live a quiet life, yet, somehow, adventure always finds Geronimo and his pals. With his younger sister Thea, cousin Trap, favorite nephew Benjamin and sometimes Aunt Sweetfur, Geronimo is launched into exciting capers filled with hilarious hijinks and far-flung antics that take them all around the world in search of the next big scoop!"
The DVD contains 4 episodes for over and hour and half of programming:
Intrigue on the Rodent Express

The Mummy with No Name
The Mask of the Rat Jitsu
Starring Geronimo
Enter daily through the Rafflecopter form below: