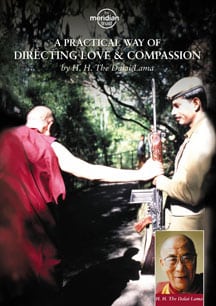 H.H. Dalai Lama
A Practical Way of Directing Love and Compassion
DVD
Release date 8/23/11
Description: Our basic human nature is compassionate and gentle. H.H. (His Holiness) The Dalai Lama describes how compassion is the most precious treasure, and it involves a sense of responsibility for the well being of others.
A few months ago I got to hear H.H. The Dalai Lama speak at a local event. It was wonderful to hear his wise words about compassion. His warmth and kindness was obvious even from my seat towards the back of the auditorium. And his feisty sense of humor was entertaining.
Whatever your personal religious views are, The Dalai Lama has wisdom that is applicable to all of us.
The dvd is long – about 165 minutes. You can watch it straight through like a movie, but I prefer to watch smaller sections so I can reflect on them more deeply before moving onto the next thought. The dvd is broken up into chapters that I can choose from the main menu.
The Dalai Lama speaks mostly in english, but he has a translator with him. Periodically, the translator will help him with a word or clarify a thought that's easier for him to express in his native Tibetan language.
Learning true compassion for others can have a huge impact!
PRIZE – The publicist would like to give A Practical Way of Directing Love and Compassion to **2** of you (ARV $20)
***MANDATORY ENTRY: Leave a comment – just say something nice! ***
Extra Credit Entries: (must do mandatory entry first- post a separate comment for each optional extra credit entry)
* Like Sweeps4Bloggers on Facebook
* Subscribe to Sweeps4Bloggers by email (green sidebar button)
* Subscribe to Sweeps4Bloggers by reader (Orange sidebar button)
* Post my button on your blog and comment with the link
* Follow Sweeps4Bloggers on Twitter
* Tweet about the giveaway and comment with the link to your tweet (you may TWEET DAILY for 1 bonus entry each day)
* Post on your blog/website about the giveaway and comment with the link (5 entries, leave 5 comments)
* Check out Giveaways4Prizes– add one of your giveaways to a linky or look at what's listed (2 entries, leave 2 comments)
* Enter the Babar giveaway (ends 9/8)
* Enter another current Sweeps4Bloggers giveaway and let me know which one you entered (enter as many as you'd like, but only 1 bonus entry)
Giveaway ends September 9, 2011 at 8pm Pacific Time. Giveaway is open for residents of the US & Canada only. No purchase necessary – void where prohibited by law. Winner will have 48 hours to respond to email notification with shipping info and claim prize – if no response, another winner will be chosen . Subject to the official rules. Disclaimer/Disclosure: Sample and prize provided by sponsor.