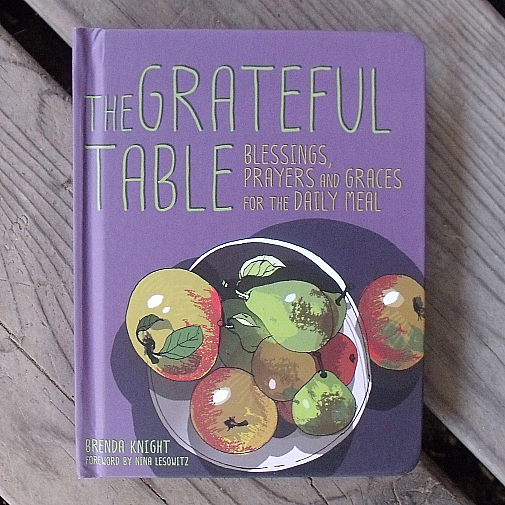 This is the time of year when we have a holiday that reminds us to be thankful. It's nice to have a special day set aside for thanks, but it's also a good idea to live our daily lives with this spirit of gratitude. It's much better to dwell on these good things than to wallow in negativity.
The Grateful Table is a beautiful little hardcover book. It contains 365 morsels of wisdom – one for each day of the year. Some are a single sentence. Others are a little longer. Each entry will make you think and will help you remember to be grateful. You'll recognize many famous names next to the quotes.
This is a lovely book to read at the dinner table each night as a family. Or you could even leave it at your beside table to get a little inspiration before you start your day. It only takes a moment and can have a positive impact on how you view life!
The Grateful Table

Blessings, Prayers and Graces
Edited by Brenda Knight
isbn 978-1936740567
Pub. date 10/15/13
Description: "Saying grace is one of our loveliest traditions. The Grateful Table offers 365 beautiful blessings for every day of the year. From 18th-century prayers for Thanksgiving to devotionals from the world's wisdom traditions and sincere expressions of thankfulness by Alton Brown, David Foster Wallace, Jack Kerouac, Shirley MacLaine, Dave Eggers, Sheryl Crow, Neil Gaiman and Alice Walker, The Grateful Table shows us the way to begin every meal with an open heart."
Enter daily through the Rafflecopter form below: