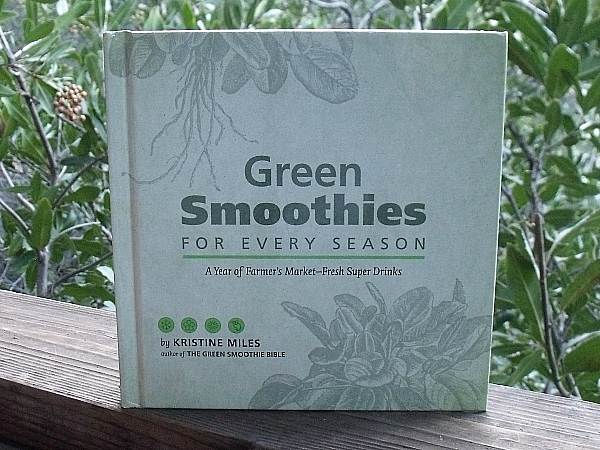 Who likes smoothies? My family definitely does. When done right, these blended beverages can be packed with flavor and nutrition. Kids who might be picky about the fruits and vegetables they eat are often very happy to drink a smoothie made from these very same ingredients.
The Green Smoothies For Every Season Recipe Book an informative little hardcover book. It contains helpful information about the nutritional benefits of smoothies and of eating in season fresh produce.
The book is organized into 4 sections – one for each season. You'll learn about the fruits and veggies that are available, their benefits and how to use them in smoothies. The recipes are simple to follow and look delicious. Some of them are the usuals and others contain creative combinations.
Green Smoothies for Every Season

A Year of Farmers Market-Fresh Super Drinks
by Kristine Miles
isbn 978-1612431727
Pub. date 12/3/13
Synopsis: "From March blossoms to the October harvest and back again, this one-of-a-kind book guides you through every week of the year with the freshest fruit and vegetable choices for your green smoothies. A daily diet rich in greens can prevent obesity, diabetes, heart disease and even some types of cancer, but most people don't eat anywhere near the recommended amount of these foods. On the other hand, those who make green smoothies part of a healthy lifestyle are able to cut calories, increase energy and transform their physical and mental health."
Here are a few of the Autumn recipes that are featured:
Fig-tastic

Mint and Melon Multivitamin
Fuyu Fever
Pear Passion
Pomegranate Pop
CONNECT – You can like Ulysses Press on Facebook and follow them on Twitter.
Enter daily through the Rafflecopter form below: