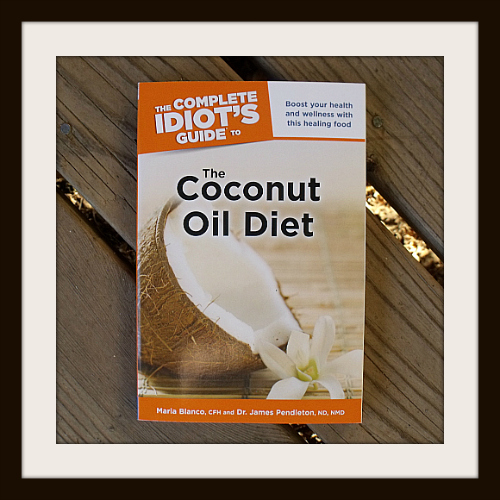 Hooray for the amazing coconut!
We can use shredded coconut in dessert recipes, drink coconut water, cook with coconut oil and much more! I know that coconut has many healthy benefits, but now that I have The Complete Idiot's Guide to The Coconut Oil Diet I know a whole lot more.
The book is organized into 4 parts. The first three go into detail about the benefits, history and science behind coconut oil use. It's not just a food source and is different than other oils. It has been used to help with specific ailments and general well-being.
While I enjoy this background information, my favorite is Part 4 which features coconut oil recipes. There are main dishes, sides, soups, condiments and desserts. Along with the food recipes, there are instructions for making health and beauty products from coconut oil (toothpaste, deodorant, lip balm, moisturizer, hair conditioner…).
Using coconut oil takes some getting used to, if you're not familiar with it. The oil is a solid when it's cool and liquifies when it's warm. Once you get in the habit, it's easy to find uses for it each and every day!
The Complete Idiot's Guide to the Coconut Oil Diet

by James Pendleton and Maria Blanco
isbn 978-1615642571
Pub. date 4/2/13
Synopsis: "For many years, coconut oil has been anecdotally credited with relieving and even curing a wide variety of the most deadly diseases and conditions. Recent evidence suggests that, taken in the right doses, it can also cause dramatic improvement in the brain function of Alzheimer's patients. Because conventional medicine so far has failed to find an effective treatment for this devastating disease, people are willing to give coconut oil a shot. But how much should they take, and what are easy ways to work it into the diet? And how and why could it really work"
CONNECT – You can like Idiot's Guides on Facebook and follow them on Twitter.
Enter daily through the Rafflecopter form below: