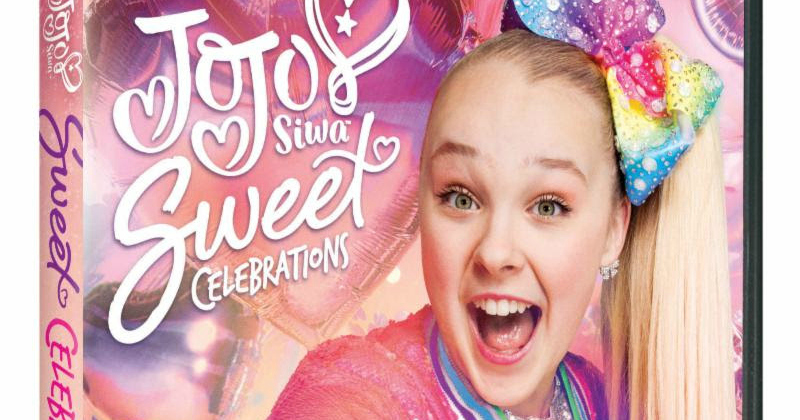 JoJo Siwa DVD
It is time to celebrate, since the new JoJo Siwa DVD has arrived!
Sweet Celebrations is super fun, which is exactly why this young star's YouTube videos get millions of views. Yes, I said millions.
JoJo was a fan favorite, when she was on Dance Moms.
After that, her career took off.
She has a larger than life, high energy personality that shines through in everything she does.
This teen is one of a kind, so kids love her over the top style and positive energy.
There are so many TV shows, movies, videos and games that encourage kids to grow up quickly.
JoJo, on the other hand, encourages kids to be kids – to enjoy the fun, silliness and joy of being young.
This energetic teen wears bright rainbow colored clothing and typically has a big bow in her hair.
Her feel good music is made for dancing, so she is sure to put a smile on your child's face.
Sweet Celebrations is a fun DVD that fills kids with positive energy, so they can strive to be their best selves and have a whole lot of fun along the way.
It's Time To Celebrate – JoJo's Dream 16 Birthday Celebration
Nickelodeon
Not Rated
Release date 9/17/19
Synopsis
JoJo embarks on the most epic 24 hours of her life filled with special guests and big surprises leading up to a birthday party she'll never forget.
First, you can celebrate with JoJo's Dream Birthday.
Then, watch these six episodes from the JoJo and BowWow Show:
BowBow Steals the Spotlight?!
JoJo's CRAZIEST Flight Ever
BowBow's SECRET Fashion Show
JoJo Makes BowBow's DIY Dreams Come True
BowBow vs. Beans: Battle of the Dog Bosses
BowBow's SECRET Hideout

Nickelodeon DVD
Check out my other giveaways, so you can have more chances to win prizes.
Take a look at my other entertainment articles, so you can keep up with the latest TV, movie and book news.
For additional family fun, check out my free printables and crafts.
Many are from Disney and Shout Factory, so they feature movies, TV series and characters that your kids already know and love.
Some are educational and some are just plain fun.
There are coloring pages, crafts, word puzzles, mazes, memory games and other family friendly activities.