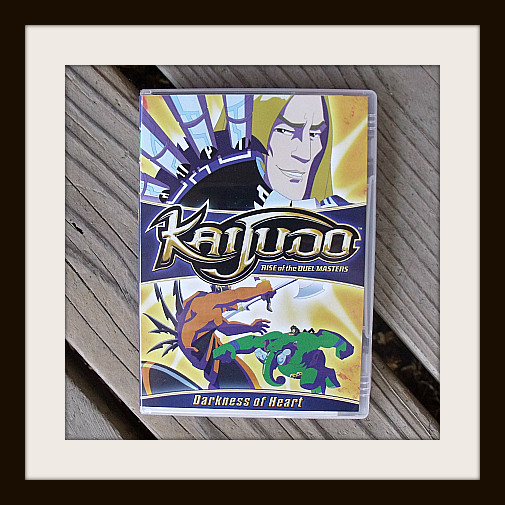 Kaijudo! This action packed animated TV show and the accompanying collectible cards from The Wizards of The Coast have fans around the world. Rise of the Duel Masters is the first season that last year. Current episodes of the second season, Clash of The Duel Masters, can be seen on the HUB network.
Small kids can enjoy it, but this is a series that is complex enough for older kids and adults to easily get caught up in the action, adventure and well-thought out details about each of the characters.
Kaijudo: Rise Of The Duel Masters
Darkness Of Heart DVD

Shout! Factory
Release date 9/24/13
Synopsis: "When 14-year-old Ray is recruited by the mysterious Duel Masters, he and his friends, Gabe and Allie, find themselves in a dangerous dimension where they must defend themselves – and Earth – from the evil mastermind known as the Choten. In these five exciting new episodes, Ray is temporarily blinded when battling a creature called Shaw K'naw, the kids investigate mysterious creature abductions, and Ray must enter the Darkness Civilization first to rescue Allie's father…and then to rescue Allie!"
Darkness of Heart includes 110 minutes of Kaijudo fun in the following 5 episodes:
Shaw K'Naw

The Taken
Duel Hard
Heart of Darkness
Darkness of Heart
CONNECT – You can like Shout Factory on Facebook and follow them on Twitter.
Enter daily through the Rafflecopter form below: