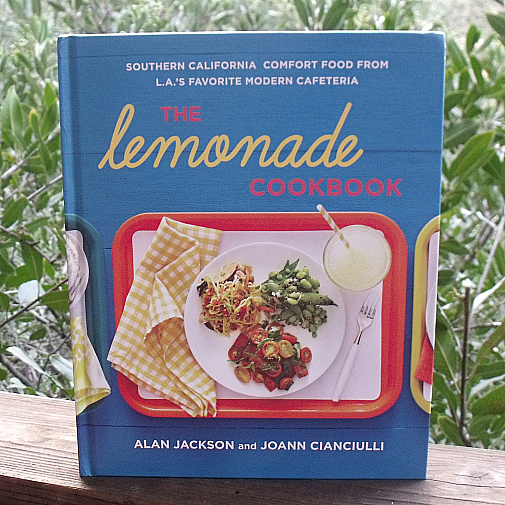 This fabulous cookbook does contain recipes for lemonade, but it has a whole lot more. The recipe book is named after the Chef Alan Jackson's Southern California Lemonade Restaurants. The cafeteria style restaurants serve up a variety of gourmet dishes in a comfortable and casual setting.
The Lemonade Cookbook contains recipes for popular dishes from the restaurant. They are modern, fresh and full of flavor. They feature seasonal fruits and vegetables and other nutritious feel-good ingredients. Often when I think of comfort food, I think of food that isn't exactly good for me. This chef knows how to use good ingredients to create comforting food.
The photographs are absolutely stunning. This is the kind of cookbook that I can spend hours just looking at the images, but there are many recipes that I want to try as well.
The Lemonade Cookbook

Southern California Comfort Food from L.A.'s Favorite Modern Cafeteria Hardcover
by Alan Jackson and JoAnn Cianciulli
isbn 978-1250023667
Pub. date 10/29/13
Description: "After years working in LA's fine dining scene, Chef Alan Jackson saw the need for quick, affordable food that didn't come at the expense of taste or imagination. A busy father of 3, he realized that the options for a quick bite or take-out were limited, and not particularly healthy. Seeking to create a chef-driven approach to healthy dining, he opened his first fast-casual eatery Lemonade in 2007 and 12 more since."
There are a wide variety of recipes that can work for lunch, dinner or a large party. Here are a few that caught my eye:
Shrimp Louie with Sriracha Aioli

Caesar Club Sandwich
Creamed Cauliflower Soup
Peanut Butter Milk Chocolate Cookies
Carrot Cupcakes
Enter daily through the Rafflecopter form below: