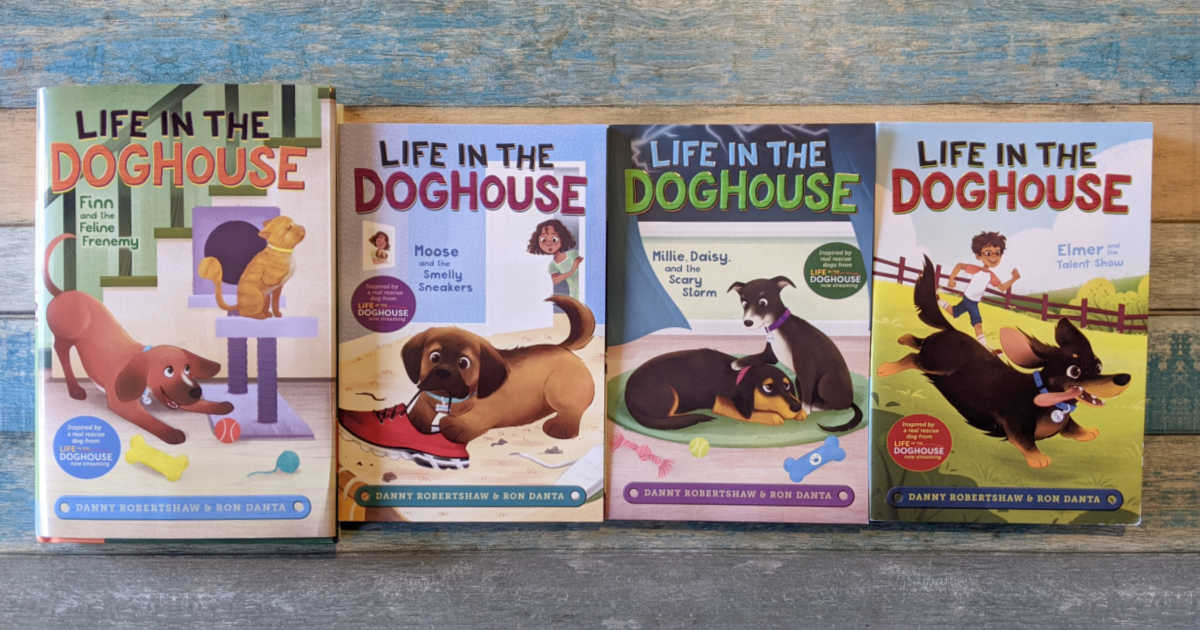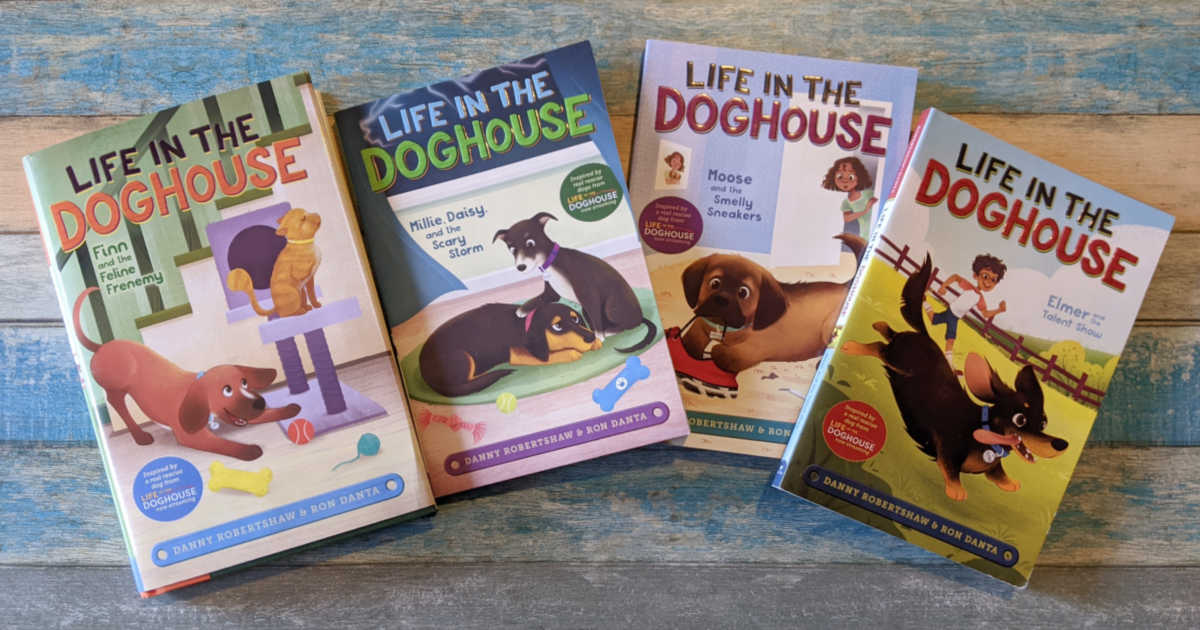 Life in the Doghouse chapter books can now be purchased as a boxed set, which is perfect for kids who love dogs and cats.
After Hurricane Katrina, Danny Robertshaw and Ron Danta began rescuing dogs impacted by the disaster.
Their work has continued and they have now rescued over 14,000 dogs.
14,000!
Each of the stories they tell in the books they write are inspired by animals that they have met in their rescue work.
The fictional tales are engaging and heartwarming, so children will love to read them.
Written by Danny Robertshaw and Ron Danta
isbn 978-1665919104
Pub. date 3/21/23
Suggested Ages
7 to 10 years old
Grades 2 to 5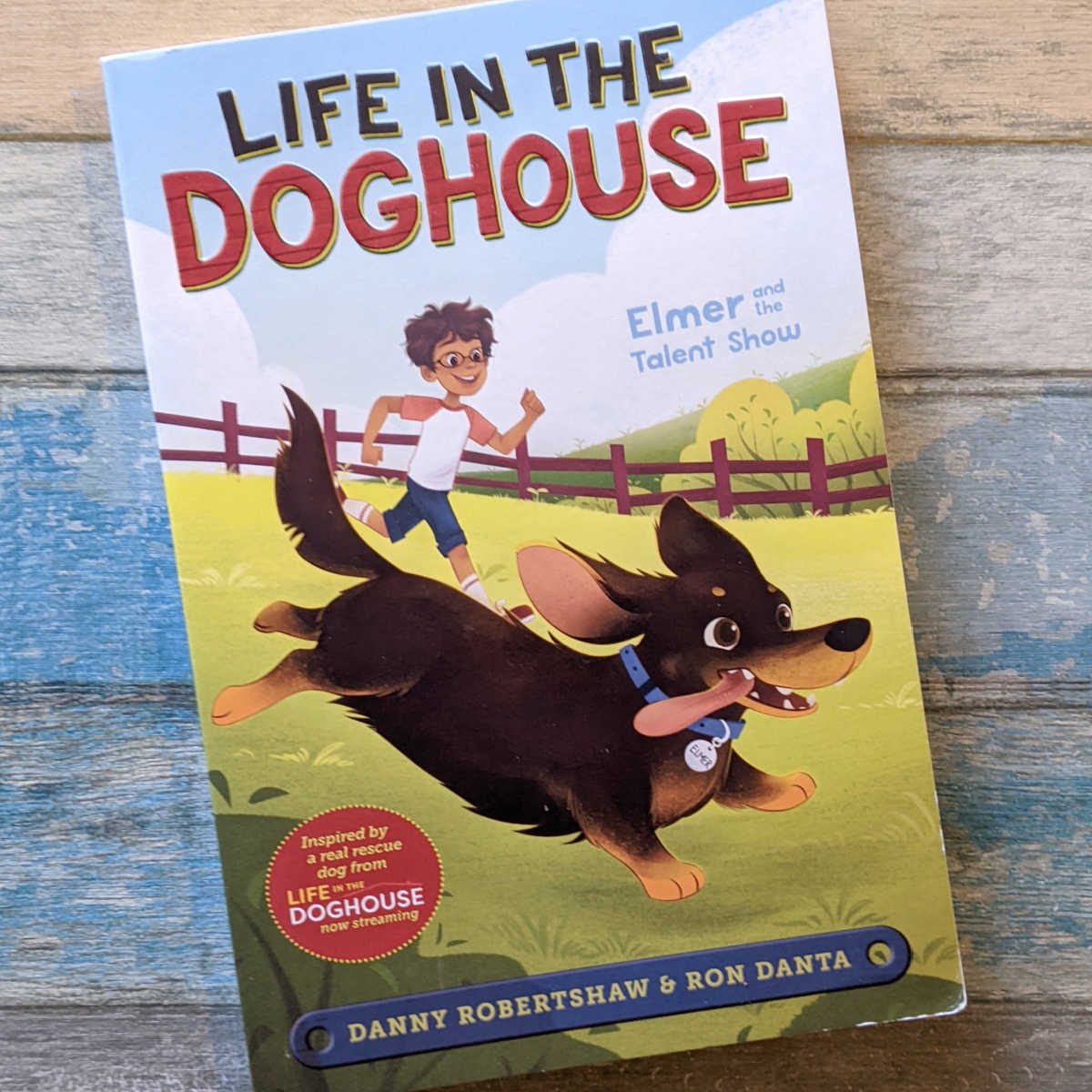 Elmer and the Talent Show
Synopsis
Elmer is a small dog with a big personality living at Danny and Ron's rescue.
He wants nothing more than for someone to become his forever family.
But as an older dog with a floppy tongue that doesn't stay in his mouth, it seems like he never fits the families' idea of the perfect pet.
Benny's family just moved (again), and what he wants are friends.
So, when his parents announce they are getting a dog, he's so excited to show it off—until they come home with a funny-looking older dachshund.
To make matters worse, his parents have signed them up for a pet training course that will end with a big talent show in front of a crowd of strangers.
Thrown together, Elmer and Benny learn that the perfect best friend might be different than they imagined—but even better than they'd hoped.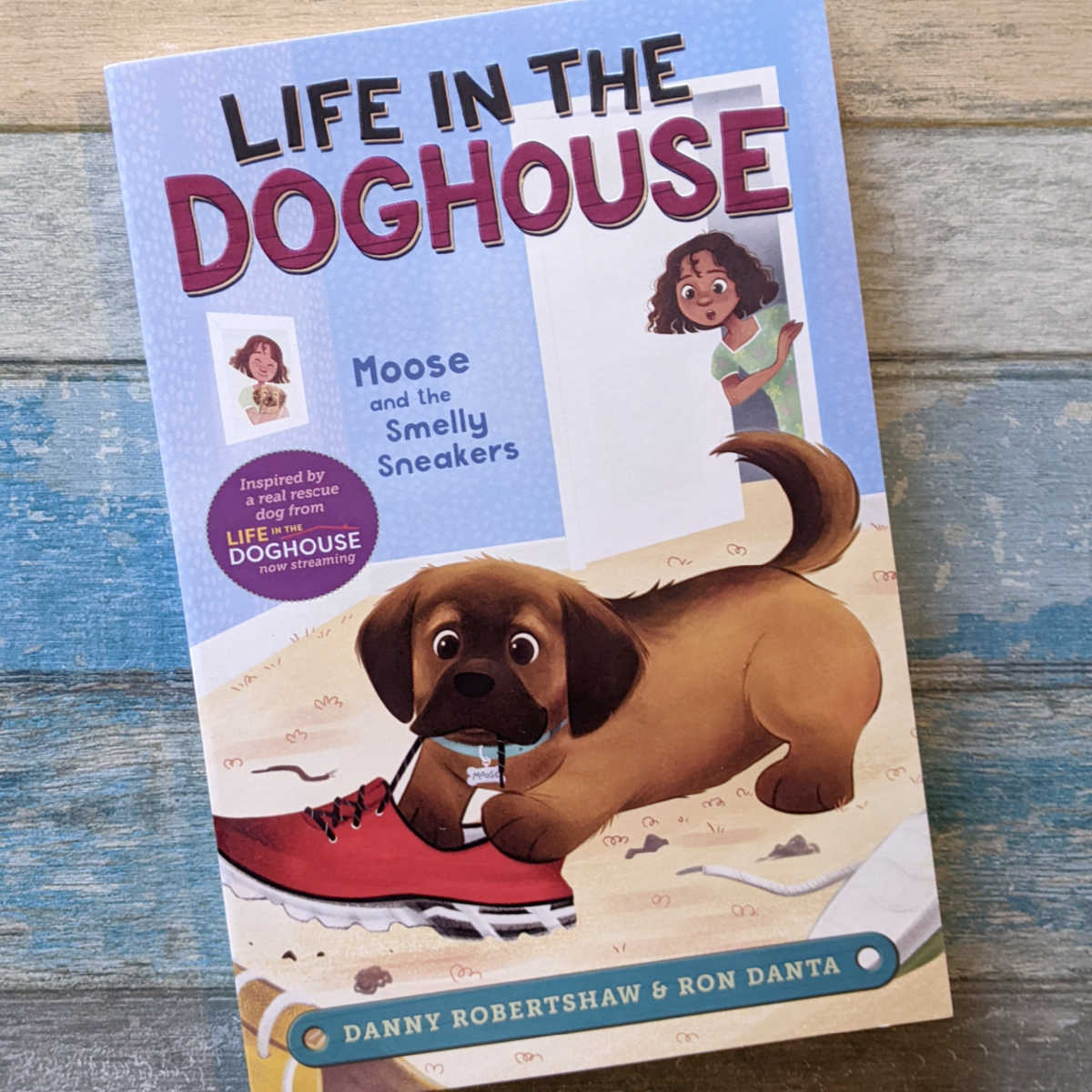 Moose and the Smelly Sneakers
Synopsis
Moose is an adorable loaf-like puppy who loves his new home with Rosa and her family.
And one of his favorite things to do is explore all of the scents in the house, from forgotten snacks to new toys to extra-smelly sneakers.
But his family seems to have lots of rules that he doesn't understand, and "no" is quickly becoming his least favorite word.
Rosa had been asking her parents to get a puppy for years, and they finally agreed on two conditions: that she help train and care for him, and that she works to improve her grade in science.
But Moose doesn't seem to understand any of the words Rosa tries to teach him, and she has no idea what topic to pick for her science project.
That is, until she has an idea for how to turn her project into a way to solve both her and Moose's problems with training at the same time.
Millie, Daisy and the Scary Storm
Synopsis
Millie and Daisy are two bonded dogs who've been through a lifetime of ups and downs together.
Finally finding safety at Danny & Ron's Rescue, Millie settles in easily, while Daisy still feels anxious, especially during thunderstorms.
A big adoption event for the rescue dogs is coming up, and Millie can't wait.
She wants to convince a family to take both her and Daisy together, so she comes up with a plan to make them stand out.
Daisy's not so sure she wants to be adopted though and thinks that while adoption may be right for Millie, living at the rescue is what's right for her.
But Daisy doesn't like the thought of being apart from Millie, and she doesn't want to ruin Millie's dreams.
As the big day arrives, will Millie and Daisy be able to find the right solution for both of them?
Or does finding their perfect forever homes mean saying goodbye to each other?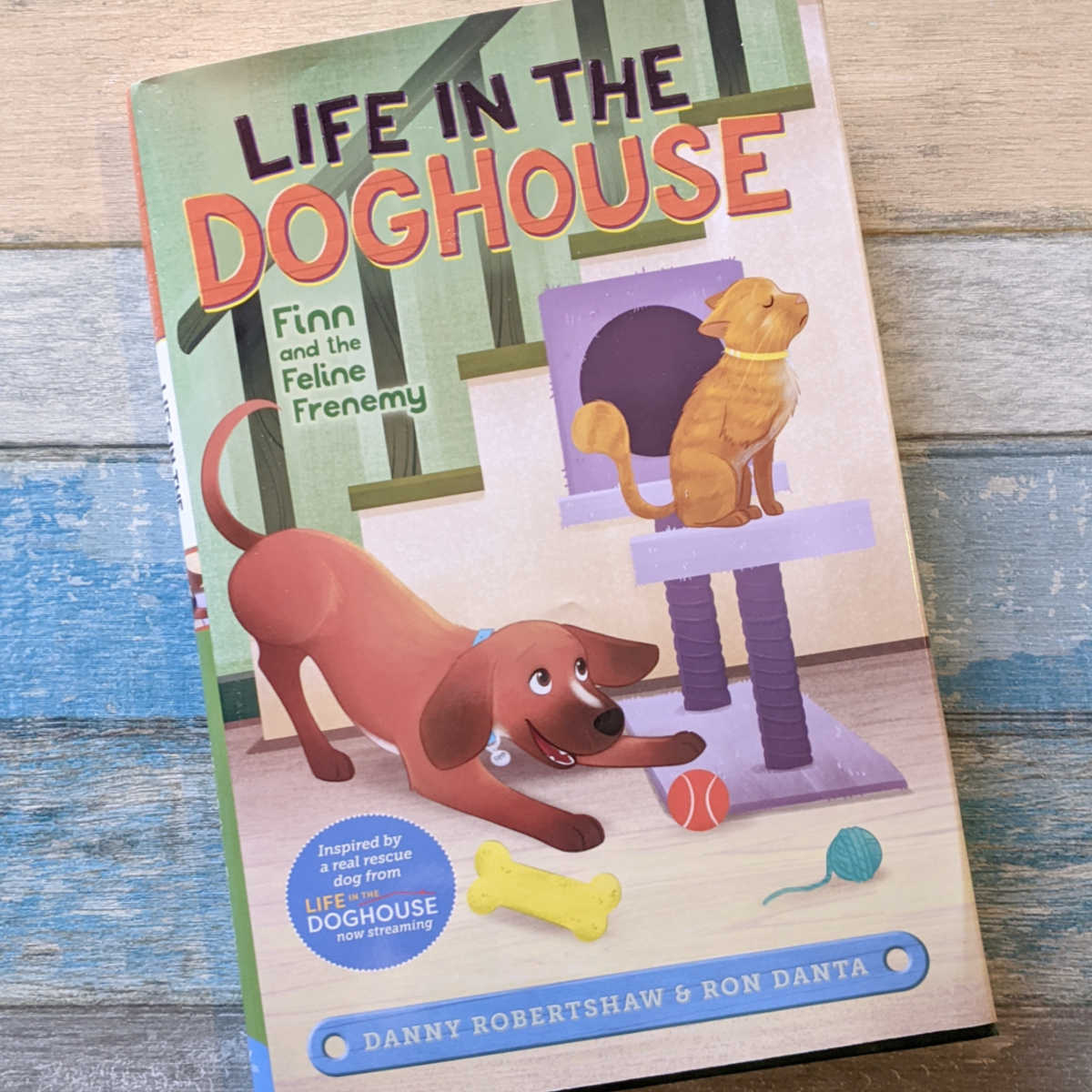 Finn and the Feline Frenemy
Synopsis
Finn, a Redbone hound with three legs, is excited to join the Figueroa family, who are also expecting a new baby to arrive any day now!
The house is full of new toys and fun places to explore, but for Finn, who is still adapting to his missing back leg, the stairs are too daunting to manage.
But Finn's new home holds one big surprise—a new cat sibling, Rusty, who has three legs just like him!
Finn is determined to become best friends, but Rusty has other plans.
And when the two start fighting over the family's attention, it turns into a battle to be the favorite pet.
Will Finn and Rusty learn to get along before their new human arrives? Or is the dog-cat divide too large to cross?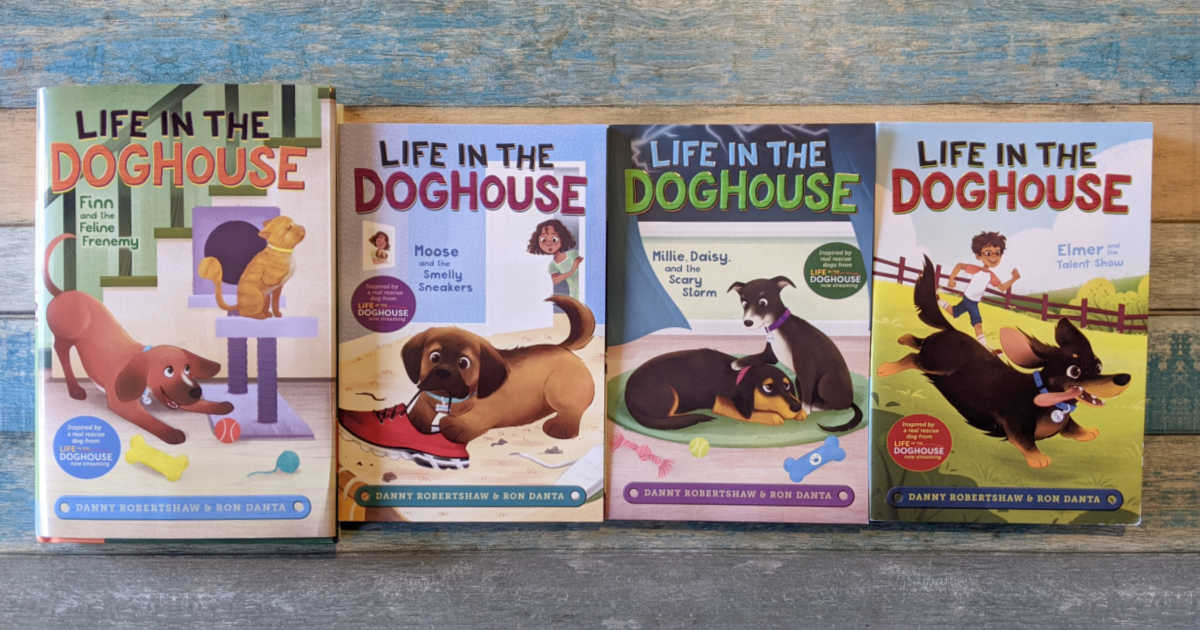 Children's Books Boxed Set Giveaway
Prize: Life in the Doghouse Pawsome Collection (Boxed Set): Elmer and the Talent Show; Moose and the Smelly Sneakers; Millie, Daisy, and the Scary Storm; Finn and the Feline Frenemy (arv $27.99)
1 Winner
Ends 3/26/23 11:59pm ET
Check out my other giveaways, so you can have more chances to win prizes.
More from Mama Likes This
Take a look at my entertainment articles, so you can keep up with the latest TV, movie and book news.
Free Printable Coloring Pages Featuring Dogs & Some Cats
Printable Activity Pages
Check out my free printables, when you are looking for fun activities to do at home.
Many are from Disney, Netflix and Shout Factory, so they feature movies, TV series and characters that your kids already know and love.
Some are educational, but others are just plain fun.
There are coloring pages, crafts, word puzzles, mazes, memory games and many other family friendly activities.
Shop Now
Check out the latest online deals, so you can save money and pick out some great products for yourself and your family.
What will you buy first?