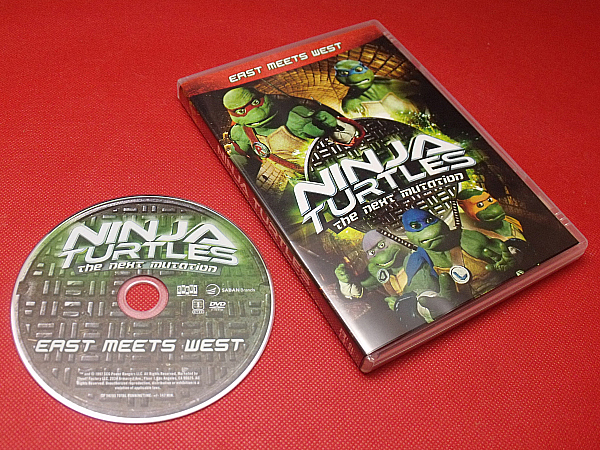 The Teenage Ninja Turtles have been around for decades. When I first saw them in the 1980's, I didn't quite "get it" even though it was obvious that kids were obsessively involved in the show and in practicing their own ninja moves at home.
Now, many of those first fans are enjoying the new episodes with their own children. The show still has the same type of action and adventure that first made it popular, but the live action on this DVD really makes it all exciting. Adults just may enjoy it as much as the kids.
The DVD includes 7 episodes for over 2 1/2 hours of programming. It is imaginative and empowering. The Turtles are always ready to fight for what is right no matter how hard it seems.
Turtle Power!
Ninja Turtles The Next Mutation

East Meets West
Shout! Factory
Release date 3/4/14
Synopsis: "Leonardo, Raphael, Donatello and Michelangelo are four genetically mutated turtles who have grown into human-sized, ninja-powered crime-fighters living in the sewers of New York City. Under the tutelage of Master Splinter, these four teens have spent their formative years fighting their nemesis, Shredder, and his evil army. But the turtles' world is about to change….and if you thought Shredder was bad, wait until you meet the newest TMNT foe: Dragon Lord! It will take all the power of the turtles to combat this new villain…but luckily for them, they will have help from a new ninja turtle, a female turtle named Venus De Milo!"
There are seven episodes on the DVD – all five parts of East Meets West along with The Staff Of Bu-ki and Silver And Gold.
Enter daily through the Rafflecopter form below: