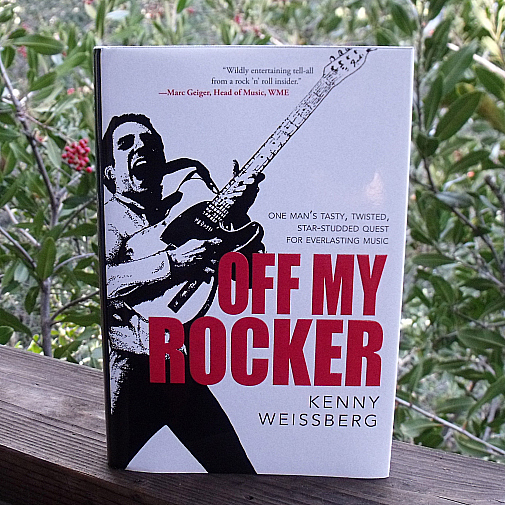 Off My Rocker is an entertaining memoir that's fun for rock and roll fans.
This is the story of Kenny Weissberg, a man who followed his dreams and pursued his many faceted rock and roll career with passion. He thoroughly enjoys music and the interesting adventures he's had.
Kenny has produced and hosted over 2,500 radio shows, written about 1,000 newspaper and magazine articles, performed in a rock and roll band and produced over 2,000 concerts for the Humphrey's Concerts by The Bay series in San Diego, California. Yes, he has been a very busy man.
As you can imagine, he's had many hilarious, interesting and amazing experiences in the music industry. Many of the stories involve the many famous rock and rollers that he worked and played with over the years.
Off My Rocker

One Man's Tasty, Twisted, Star-Studded Quest for Everlasting Music
by Kenny Weissberg
isbn 978-0985581565
Pub. date 9/23/13
Description: "Kenny has worn nearly every hat in the music industry as a renowned radio disc jockey, music critic, rock 'n' roll singer, and concert promoter. Based in San Diego, he produced the internationally acclaimed Humphrey's Concerts by the Bay series for twenty-three years, where he broke stars like Whitney Houston, and made friends and foes with a spectacular array of showbiz legends, including Ray Charles, Fats Domino, Roseanne Barr, Joan Baez, Roy Orbison, B.B. King and Leonard Cohen. Kenny recently released his rock 'n' roll memoir, Off My Rocker. It's equal parts spicy confessional, pop-culture adventure, and a veteran's look at six decades of music and the music industry at large."
Enter daily through the Rafflecopter form below: