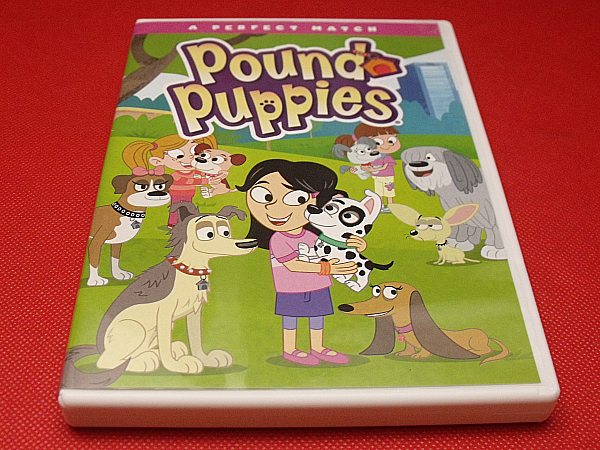 Are you a fan of the Pound Puppies? Like many of the programs that air on the HUB Network, this animated children's show appeals to kids and many adults, too.
The characters first appeared as toys in the 1980's. Then a TV series based on the toys was created. In 2010 Hasbro brought back an updated, modern version of the program that was an instant hit. The basics are similar to the original, but the animation and stories are perfect for kids of today.
Pound Puppies are entertaining and there are lots of good messages in each episode. In addition to the obvious messages about the importance of treating animals well, kids will pick up on good life lessons that will encourage good behavior with friends, family and others.
A Perfect Match contains 5 full length episodes for two hours of entertainment. You'll probably recognize several of the famous voice actors, including the talented Betty White.

Pound Puppies
A Perfect Match DVD

Shout! Factory
Release date 4/8/14
Synopsis: "The Pound Puppies find they have their paws full with their newest adventures! In A Perfect Match, the Pound Puppies come to the rescue when a so-called "un-matchable puppy" finally finds his match – and loses him, assist a shy puppy on a High Energy Scouts camping trip, help a furless pup to bolster his confidence,and they have to investigate why a paper girl's deliveries are always late!"
The DVD includes five fun-filled episodes:
The Yipper Caper
Working K-9 to 5
Hello Kitten
Beauty is Only Fur Deep
No More S'mores
Enter daily through the Rafflecopter form below: