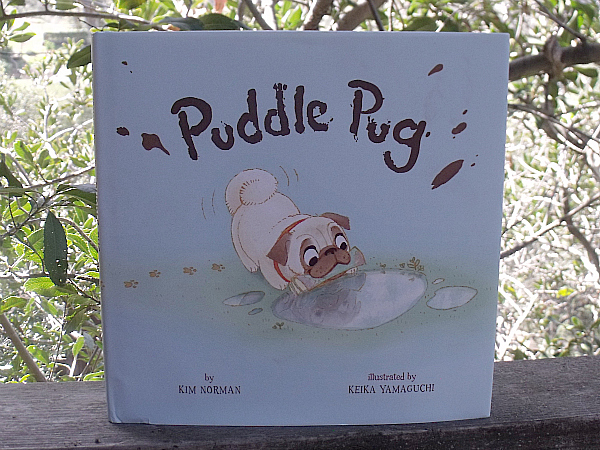 Puddle Pug is a sweet, hard cover picture book that is perfect for preschoolers and early readers. Percy is an adorable Pug who knows that something is missing until he discovers that friendship is just what he needs. Percy is sweet, silly and a good friend.
The story is written by Kim Norman who has authored many other children's books. I enjoyed Crocodaddy. Her other books include Ten on the Sled, If It's Snowy and You Know It, Clap Your Paws! and The Great Christmas Crisis.
Puddle Pug is illustrated by Keika Yamaguchi, who is a former Walt Disney imagineering intern. The illustrations suit the story perfectly.
The words and images both make this book a special treat for kids and the adults who read to them.
Puddle Pug

Written by Kim Norman
Illustrated by Keika Yamaguchi
isbn 9781454904366
Pub. date 4/1/14
Description: ""Blue puddles, dew puddles, thick as turtle stew puddles . . ." Percy the Pug loves puddles of all sorts, but every one he finds is lacking. He soon realizes what is missing when he comes across a big, muddy puddle that is home to three friendly piglets and their mother. But Mama Pig is quite adamant that this puddle is for pigs only, and Percy's clever attempts to enter are all foiled. How will Percy ever find a way to play with his new friends in the perfect puddle?"
CONNECT – You can follow Sterling Books on Twitter.
Enter daily through the Rafflecopter form below: