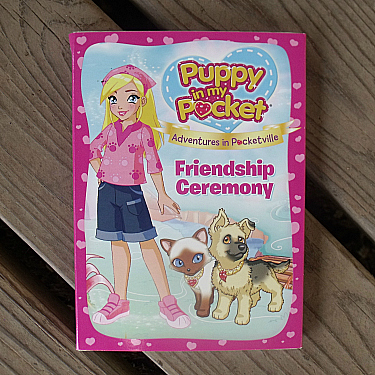 Do you know someone who would like to have a special little puppy in their pocket?
This Puppy in My Pocket DVD is a wonderful debut. Pocketville is a magical place and it's fun to imagine the thrill of being there and helping to match pets with new owners. The episodes are sweet and full of child appropriate adventure. The show is great for kids who love animals and like to use their imaginations.
Puppy in My Pocket
Friendship Ceremony DVD

Release date 9/10/13
Synopsis: "When you're sad and feeling lonely, there's a pet in Pocketville waiting to meet you! In this adorable animated series based on the popular pocket-sized toy pets, Entertainment One invites families to Pocketville, where beautiful kitty Princess Ava matches lucky children looking for a friend with new pets! One day, however, Ava's jealous sister, Eva, accidentally sends Ava to the 'real world" while real-world girl Kate is sent to Pocketville in her place. And now, Kate and her new dog, Magic, must now continue Ava's work until she can find her way home."
Kids can have fun playing with Puppy in My Pocket collectible toys and they can watch the magic of Pocketville in these 6 episodes:
Friendship Ceremony

The Unexpected Guest
Evershell The Wise
Going Home
A Big Responsibility (Parts 1 & 2)
Crest of a Wave
The DVD is fun and will reinforce positive thinking,good character, friendship and the importance of being kind to animals and others.
Enter daily through the Rafflecopter form below: