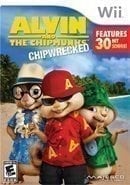 Alvin and the Chipmunks
Chipwrecked
I have been a fan of Alvin and The Chipmunks as long as I can remember. Alvin was always my favorite, but I liked them all. I'm happy that The Chipmunks are still around and still making movies.
The Chipwrecked movie has just come out in theaters and the game is available for Wii, Kinect and Nintendo DS. I got to try out the Wii version and it is very fun!
I used to love listening to my Chipmunks record album on my red and white plastic record player. The sound quality was horrible by today's standards, but that didn't stop me from dancing and singing and I played it over and over and over again.
The Wii game is very fun and brought back some good memories for me! It features 30 songs and dance moves that are fun to follow along with. Some of my favorite songs are:
Witch Doctor
Hit Me with Your Best Shot
Life is a Highway
You Spin Me Round
Crocodile Rock
Surfin' Safari
The game is rated E 10+ for mild lyrics. The songs are common and I'm guessing that most people won't have a problem with the lyrics. Adults and children will have fun with the Chipmunks.
The dances are very fun. They're all in Chipmunk style, so it's pretty easy for kids and (uncoordinated) adults to catch on and have a great time playing.
The music assortment is great. There are lots of different styles of music with a variety of dance moves to go along with them. The Chipmunks and Chipettes can be customized to show off the player's style.
WHERE TO BUY – The game is available at a discount on Amazon.
Disclaimer/Disclosure: Review sample provided to me.