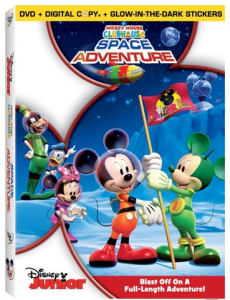 Mickey Mouse Clubhouse
Space Adventure DVD
Disney
Release Date 11/8/11
Synopsis: It's Adventure Day and Professor Von Drake is sending Mickey and pals into the far reaches of outer space. The team blasts off in their Clubhouse Rocket in search of Treasure Stars that will point the way to the Out-of-this-World Treasure, their ultimate goal. The interplanetary trip takes preschool viewers first to the Moon, Mars and the Rings of Saturn. Along the way, the gang gets help from friendly space aliens Moon Men Chip and Dale, Martian Mickey and Pluto from Pluto but they also encounter sneaky Space Pirate Pete, who wants the Treasure all for himself. Eventually the Clubhouse Rocket's crew and Space Pirate Pete manage to become friends, and they all follow the trail of the Treasure Stars to the mysterious Planet Mickey where they discover the location of the Out-of-this-World Treasure. It turns out to be a futuristic, space age version of the Clubhouse — the perfect meeting place for all pals across the universe!
This DVD is very fun!
Disney Junior programming is designed to appeal to children ages 2-5. Mickey Mouse Clubhouse definitely has that appeal. It's entertaining and kids like to learn. Yes, learning is fun.
Space Adventure is a full-length feature. At 45 minutes long, it's more involved than the typical Mickey Mouse Clubhouse TV episode. It can still hold the attention of preschoolers, but may also be appropriate for your older children.
Mickey and his pals make the whole idea of space exploration extra fun. It's always exciting for kids to imagine what it would be like to have an adventure in space. There is action, mystery and some good life lessons to be learned.
This is one of the Disney Junior DVDs that will work with a Mickey Mote. This allows children to interact with the programming when it's set to Discovery Mode. It's great to watch the DVD by itself, but using the Mickey Mote turns it into a whole new learning experience.
The DVD Combo Pack includes a second digital copy disc and a sheet of glow in the dark stickers. Mickey Motes are sold separately and can be used with any specially marked Disney DVD.
WHERE TO BUY – Space Adventure is available at a discount on Amazon.
Disclaimer/Disclosure: Review sample provided to me.