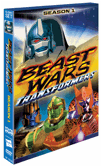 Transformers Beast Wars
Season 1
Shout! Factory
Run time 600 minutes
Release date 6/7/11
Description: Brace yourself to relive some of the most epic TRANSFORMERS battles and non-stop action adventures through the 15th Anniversary release of BEAST WARS. In 1996, TRANSFORMERS fans were introduced to this stunning saga between the heroic MAXIMALS and the evil PREDACONS wherethese powerful TRANSFORMERS disguised themselves as some of the fiercest and most ferocious animals on Earth. In a flash of an instant, these beasts turned into battle-tested robot warriors ready for combat.
This dvd set brought back so many memories!
I hadn't seen Beast Wars for years and, honestly, I didn't think that I really paid a whole lot of attention to it when my kids were little. It was "their" show that kept them entertained while I was busy with other things. I was surprised at how familiar the whole thing was and how complex the story is. The episodes can be enjoyed by fans of all ages.
Season 1 is a great introduction to the Transformers saga for new, young fans and it will have nostalgic appeal for teens and young adults who remember enjoying it when they were young. They'll probably also pick up on some extras that they missed when they were younger.
Fans will also enjoy the bonus features: Maximize! Creating A New Breed of Transformer, Art Gallery and Original Character Models. I always like seeing the behind the scenes footage to understand what went into making the program.
WHERE TO BUY – The dvd set is available at a discount on Amazon.
Disclaimer/Disclosure: Review sample provided to me.