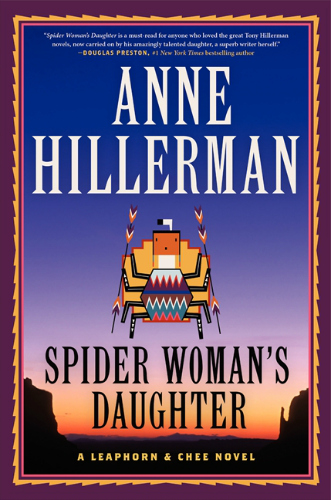 I was excited when I glanced at the beautiful Navajo art on the cover of this book. My first thought was that I was excited that a new Tony Hillerman novel was being released posthumously. I wondered if it would feature the familiar characters, Leaphorn and Chee.
It turns out that I was only half-right. This novel was written by Tony's eldest daughter, Anne. She was an avid reader at a young age, learned from her father and has developed her own writing skills and sense of adventure.
Spider Woman's Daughter continues the writing tradition that her father began. It, too, is set in the Navajo Nation and continues the story of the characters that he created. We get to meet new characters in addition to the well-known Leaphorn and Chee.
Spider Woman's Daughter

by Anne Hillerman
isbn 978-0062270481
Pub. date 10/1/13
Synopsis: "It happened in an instant: After a breakfast with colleagues, Navajo Nation Police Officer Bernadette Manuelito sees a sedan career into the parking lot and hears a crack of gunfire. When the dust clears, someone very close to her is lying on the asphalt in a pool of blood. With the victim in the hospital fighting for his life, every person in the squad and the local FBI office is hell-bent on catching the gunman. Bernie, too, wants in on the investigation, despite regulations strictly forbidding eyewitness involvement. Her superior may have ordered her to take some leave, but that doesn't mean she's going to sit idly by, especially when her husband, Sergeant Jim Chee, is put in charge of finding the shooter."
I thoroughly enjoyed Spider Woman's Daughter and believe that Tony would be proud of his daughter's work and that his characters are living on.
CONNECT – You can follow HarperBooks on Twitter.
Enter daily through the Rafflecopter form below: