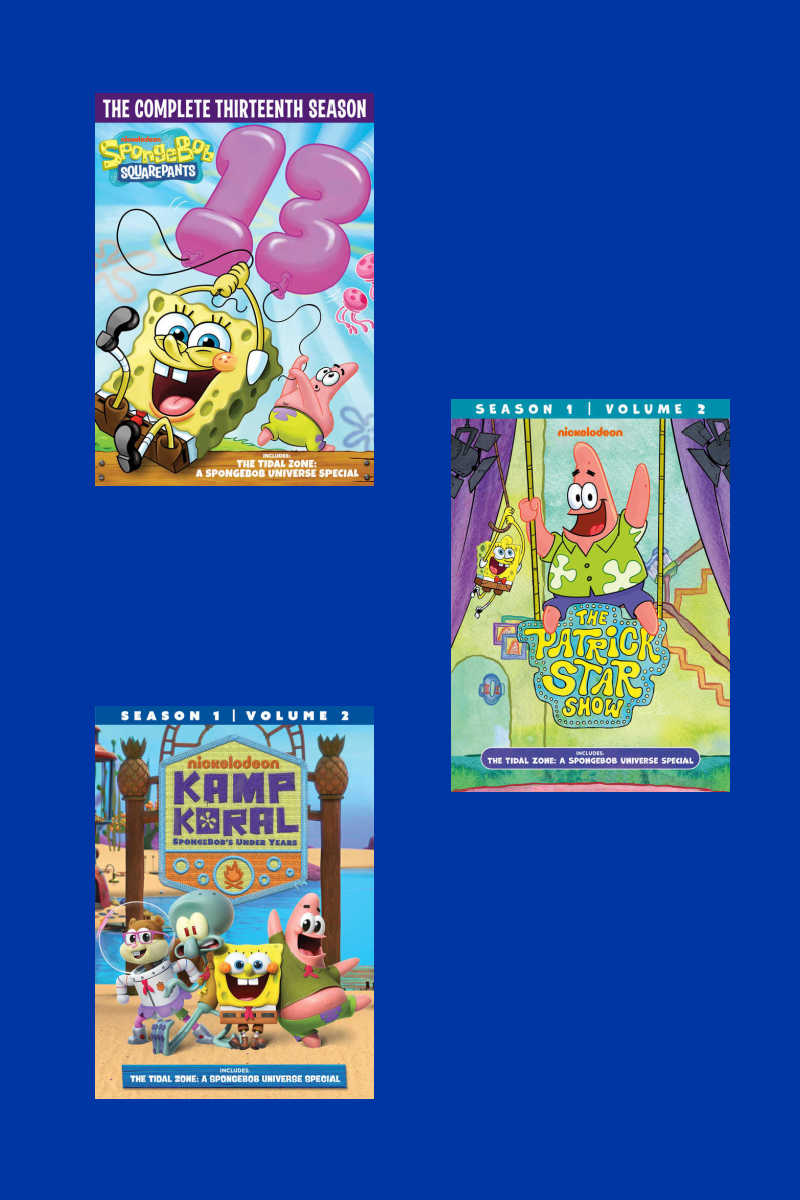 Three new DVDs fresh from Bikini Bottom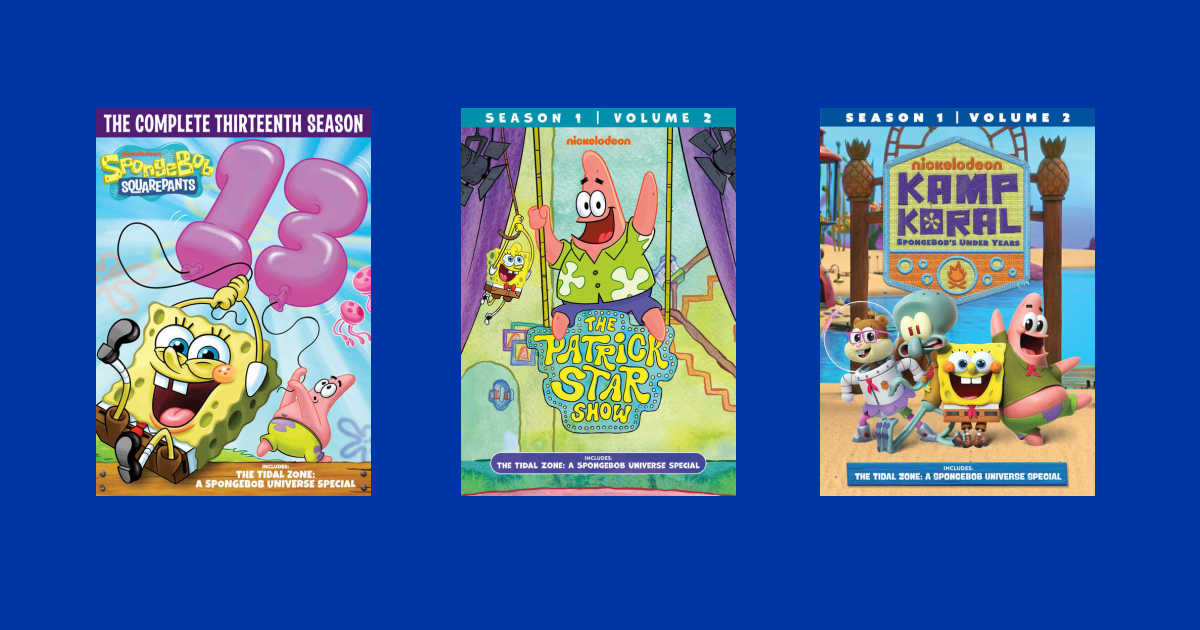 Prepare to dive into the depths of Bikini Bottom and experience endless laughter with the release of three new SpongeBob SquarePants DVDs!
Are you ready for an epic adventure under the sea?
Join SpongeBob SquarePants, the most absorbent, optimistic, and pineapple-loving creature in Bikini Bottom, as he embarks on a journey of laughter and fun in three brand-new DVD releases!
Prepare to be entertained by SpongeBob's hilarious antics, Patrick's star-studded adventures, and the heartwarming stories of Kamp Koral: SpongeBob's Under Years.
Order your DVDs now and let the underwater adventures begin!
Dive into the Depths of Bikini Bottom with Three New SpongeBob DVD Releases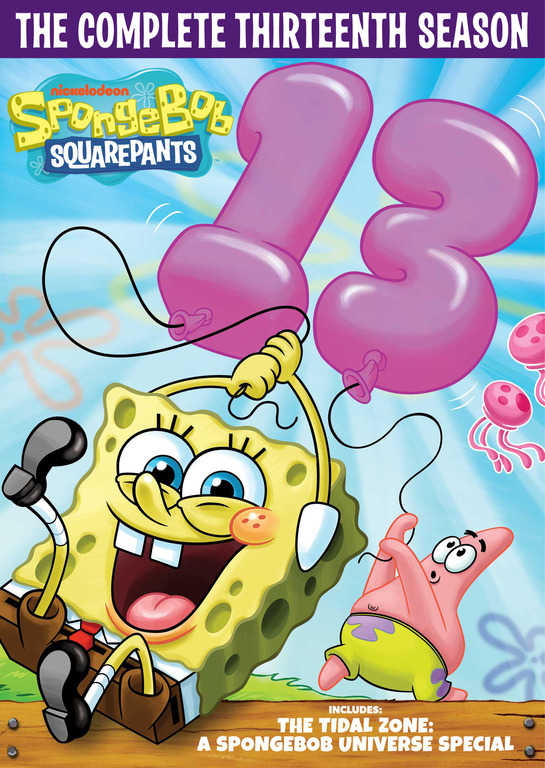 Paramount Home Entertainment
Nickelodeon
Release Date 12/5/23
Synopsis
Let's celebrate another season of SpongeBob, with the arrival of its thirteenth hilarious season.
Let's see all the friends of the most famous sponge in the ocean.
This release features all 26 episodes from the 13th season on 3-discs.
Episodes
A Place for Pets / Lockdown for Love
Under the Small Top / Squidward's Sick Daze
Goofy Scoopers / Pat the Dog
Something Narwhal This Way Comes / C.H.U.M.S
SpongeBob's Road to Christmas
Potato Puff / There Will Be Grease
The Big Bad Bubble Bass / Sea-Man Sponge Haters Club
Food PBFFT! Truck / Upturn Girls
Say Awww! / Patrick the Mailman
Captain Pipsqueak / Plane to Sea
Squidferatu / Slappy Daze
Welcome to Binary Bottom / You're Going to Pay…Phone / A Skin Wrinkle in Time
Abandon Twits / Wallhalla
Salty Sponge / Karen for Spot
Arbor Day Disarray / Ain't That The Tooth
Ma and Pa's Big Hurrah / Yellow Pavement
The Flower Plot / SpongeBob on Parade
Delivery to Monster Island / Ride Patrick Ride
Hot Crossed Nuts / Sir Urchin and Snail Fail
Friendiversary / Mandatory Music
Dopey Dick / Plankton and the Beanstalk
My Friend Patty / Fun-Believable
Spatula of the Heavens / Gary's Playhouse
Swimming Fools/ The Goobfather
Squidbird / Allergy Attack!
Big Top Flop / Sandy, Help Us!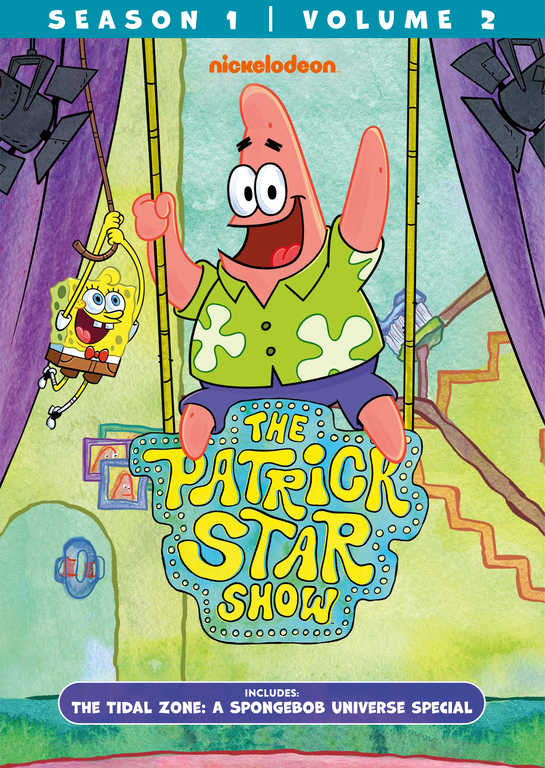 Paramount Home Entertainment
Nickelodeon
Release Date 12/5/23
Synopsis
In this SpongeBob SquarePants spin-off series, join Patrick Star, everyone's favorite sea star, as he hosts a variety show in his room – inspired by the inner machinations of his mind.
Patrick constantly and hilariously disrupts his family with his wild whims and surreal imagination.
This release features the remaining 13 episodes of Season 1.
Episodes
Shrinking Stars / FitzPatrick
Uncredible Journey / Host-A-Palooza
Backpay Payback / House Hunting
The Drooling Fool / Patrick's Got A Zoo Loose
The Patterfly Effect / A Space Affair To Remember
Home Ecch! / Fun & Done!
The Lil' Patscals / The Prehistoric Patrick Star Show
The Patrick Show Sells Out / Neptune's Ball
Dad's Stache Stash / A Root Galoot
The Starry Awards / Blorpsgiving
Stuntin' / Olly Olly Organ Free
Which Witch Is Which? / Get Off My Lawnie
Bubble Bass Reviews / Patrick's Prison Pals
Paramount Home Entertainment
Nickelodeon
Release Date 12/5/23
Synopsis
SpongeBob, Patrick and Sandy's adventures continue at Kamp Koral.
The campers befriend a ghost camper, have a demolition derby under Lake Yuckymuck, and continue to drive their teenage campy counselor Squidward absolutely crazy!
Camp Master Krabs finally hires a camp nurse, and he also hires the Flying Dutchman to run the camp store.
This volume contains the second half of Season One, episodes 14-26, plus The Tidal Zone: A SpongeBob Universe Special, in a 2-disc set.
Episodes
Help Not Wanted / Camp Spirit
Hill-Fu / Sun's Out, Fun's Out
First and Last Aid / Night of the Living Stench
Camp Crossbones / The Jelly Life
Lake Crashers / Boo Light Special
Painting with Squidward / Kamp Kow
Helter Shelter / Reveille Revolution
The Switch Glitch / Prickly Pests
Are You Smarter than a Smart Cabin? / Deep Sea Despot
Regi-Hilled / The Perfect Camper
Eye of the Hotdog / Patrick Takes the Cake
The Taste of Defeat / Scaredy Squirrel
Hats off to Space / In a Nut's Shell
SpongeBob DVD Collection Giveaway
Prize: Set of 3 DVDs: SpongeBob SquarePants: The Complete Thirteenth Season, The Patrick Star Show: Season 1, Volume 2 and Kamp Koral: SpongeBob's Under Years – Season 1, Volume 2 (arv $30.97)
1 Winner
US 18+
Ends 12/21/23 11:59pm ET
Check out my other giveaways, so you can have more chances to win prizes.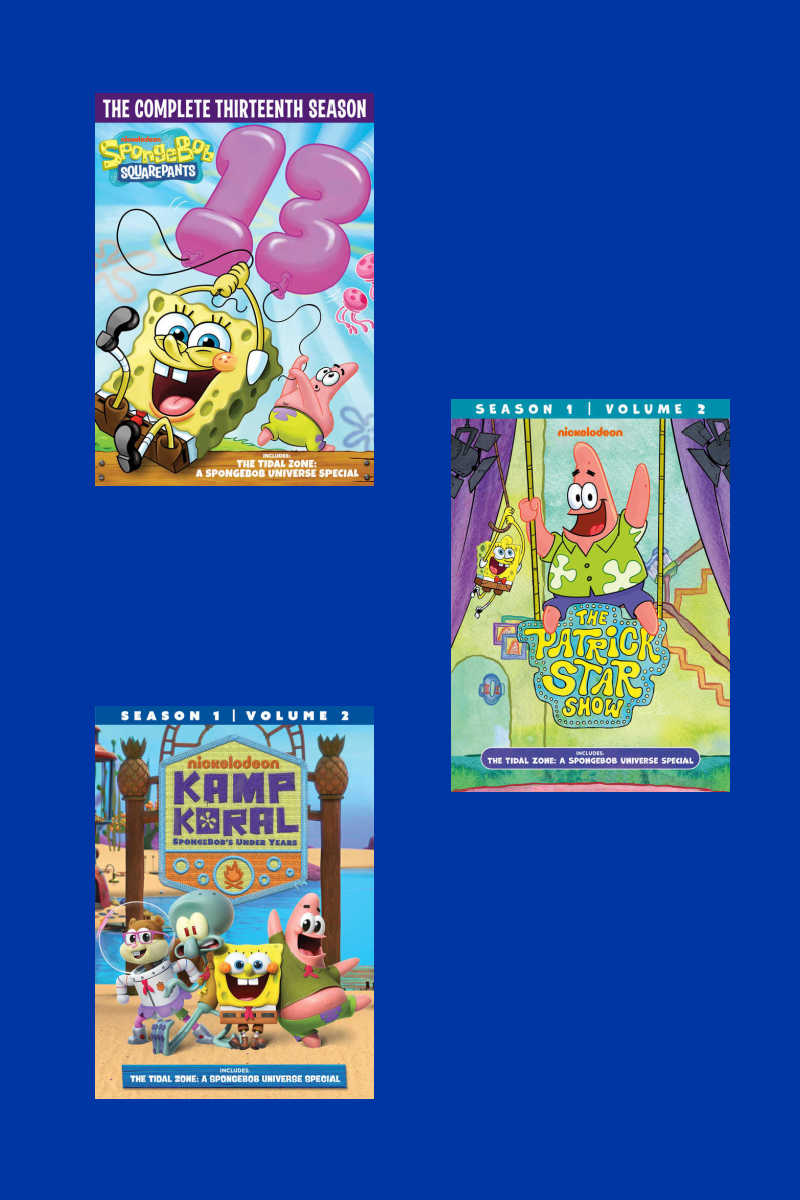 More from Mama Likes This
Take a look at my other entertainment articles, so you can keep up with the latest TV, movie and book news.
Printable Activity Pages
Check out my free printables, when you are looking for fun activities to do at home.
Many are from Disney, Netflix and Shout Factory, so they feature movies, TV series and characters that your kids already know and love.
Some are educational, but others are just plain fun.
There are coloring pages, crafts, word puzzles, mazes, memory games and many other family friendly activities.
Shop Now
Check out the latest online deals, so you can save money and pick out some great products for yourself and your family.
What will you buy first?