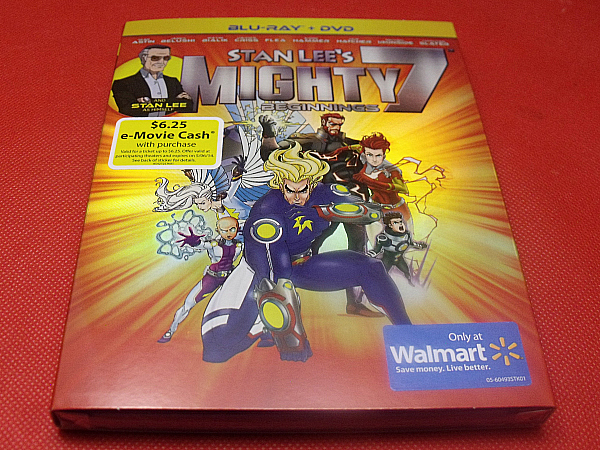 Stan Lee is legendary in the comic world. He's created the stories and characters that kids and adults love – Spider-Man, Thor, X-Men, Iron Man and more. The characters are featured in comics, books, movies, TV series, video games, toys, apparel and much more.
Stan Lee's Mighty 7 is a new series of three feature length movies. Beginnings is the first one that premiered in February on the HUB Network. Now it's available on blu-ray and DVD.
The trilogy is similar to his other works, but unique in that it features Stan Lee himself as an animated character and integral part of the story. The concept is fun and the movie is entertaining for kids and older fans.
Along with Stan Lee, there are many other recognizable voice actors in the star studded cast – Mayim Bialik, Terri Hatcher, Christian Slater, Jim Belushi and even Flea from the Red Hot Chili Peppers.
Stan Lee Mighty 7:
Beginnings
Release date 4/15/14
Synopsis: "Reality, fantasy and adventure collide in this action-fueled animated movie from comic book legend Stan Lee. When Stan stumbles upon seven aliens who have crash-landed in the desert, he soon finds himself swept up in their journey as a top-secret military force led by the ominous Mr. Cross and the evil reptilian Taegons close in on the group. He quickly moves them to his Malibu beach house, but in order to guarantee their survival, Stan must show the Mighty 7 how to develop their powers and become Earth's newest team of superhero fighters."
Enter daily through the Rafflecopter form below: