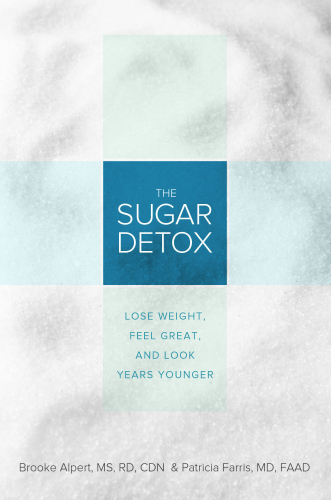 Sugar… a little bit is nice, but I think we can all agree that it's really easy to overdo it. Sometimes the sugar is obvious (candy, sodas), but it really has crept into just about every type of food – even ones that make me wonder why someone thought they needed any sugar at all.
Too much sugar can lead to obesity, diabetes, a multitude of other issues and can make your skin look old and unhealthy. Cutting back can help you look and feel better.
In The Sugar Detox by Brooke Alpert and Patricia Farris, you'll learn about sugar and what it's doing to your body. Armed with this knowledge, you'll get a motivational push for change. You'll learn what to eat and what not to eat. There is a detailed 3 day plan to cut out the sugar and helpful facts, recipes and other tips to help you maintain this new lifestyle for the long run.
The Sugar Detox

Lose Weight, Feel Great, and Look Years Younger
by Brooke Alpert MS RD and Patricia Farris MD
isbn 978-0738216416
Pub. date 6/25/13
Synopsis: "Sugar is the new controlled substance. The average American consumes up to 31 pounds of sugar a year, and a diet high in sugar can cause diabetes, obesity, and many other health crises. Our excess intake of sugar, from the white stuff on the table to the high-fructose corn syrup hidden in packaged foods, is not only making us sick, it's making us fat and aging our skin. Now, nutritionist Brooke Alpert and dermatologist Patricia Farris team up in this revolutionary program that helps get the sugar out of your diet to recapture youthful skin and good health."
CONNECT – You can like The Sugar Detox on Facebook and follow Brooke and Patricia on Twitter.
Enter daily through the Rafflecopter form below: