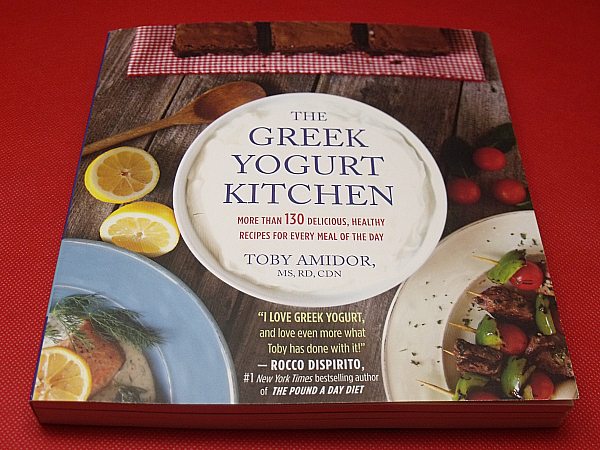 Do you like Greek yogurt? I do! I've always liked yogurt, but the first time I tried Greek yogurt I fell in love with this rich and creamy protein packed food.
The Greek Yogurt Kitchen by Toby Amidor has given me all kinds of great ideas for ways to enjoy Greek yogurt even more. This isn't just a breakfast food to be eaten with fresh fruit. It can be enjoyed all day long.
Toby Amidor has created 130 recipes featuring Greek yogurt. Breakfast, lunch, dinner, snacks, desserts and beverages can all be made with this tasty ingredient. Some of the recipes are what you might expect, but most of them are for things that you probably wouldn't expect to contain yogurt. It adds protein and other nutrition along with a creamy texture and flavor to a wide variety of foods.
The Greek Yogurt Kitchen

More Than 130 Delicious, Healthy Recipes for Every Meal of the Day
by Toby Amidor
isbn 9781455551200
Pub. date 5/6/14
Description: "Greek yogurt has quickly become one of America's favorite foods, its tangy, luscious taste going far beyond a typical breakfast or simple snack. Thanks to its health benefits, this power food has become a staple. Greek yogurt's protein quantity builds muscles and regulates metabolism and the probiotics help maintain a healthy digestive tract and boost the immune system. Greek yogurt is also an excellent source of calcium and very low in sodium-and it's lactose-intolerant friendly, too! Because it is strained, resulting in very low water content, the ingredient is thick, creamy, and indulgent. Why wouldn't you want it in every meal? "
Here are a few of the recipes that are included in the cookbook:
Pumpkin Bread

Deviled Eggs
Mac and Cheese
Potato Salad
Carrot Cake
Yes, all of these things can be made with Greek Yogurt!
Enter daily through the Rafflecopter form below: