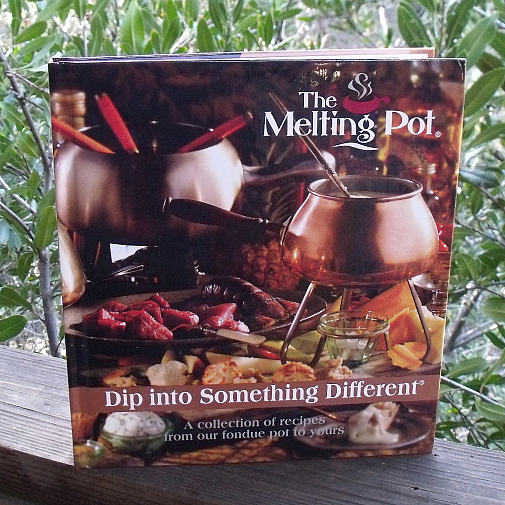 Have you ever had a fondue dinner at The Melting Pot?
This fabulous cookbook will help you recreate that same delicious dining experience at home for a fun family dinner or a romantic meal with a special someone.
The beautifully illustrated book features recipes and complete instructions for a variety of cheese and chocolate fondues along with other foods and beverages that are served at the restaurants. Some of the recipes are for more advanced home cooks, but many are simple enough for beginners.
Whether you just like looking at pretty cookbooks or actually making the recipes, this is a beautiful cookbook. It can inspire you to make your own Melting Pot meal and it just may convince you that it's time to visit a restaurant to experience their excellent service along with the food. They've even included some discount coupons for the restaurant in the back of the book.
The Melting Pot Cookbook

Dip Into Something Different:
A Collection of Recipes from Our Fondue Pot to Yours
isbn 978-0979728303
Pub. date 9/30/08
Description: "Ever since The Melting Pot opened it's doors in 1975, it has been famous for its intimate atmosphere, quality ingredients, delicious fondues and the ability to bring people together for the Perfect Night Out. Now we are proud to invite you to bring the magic of The Melting Pot into your home with this special cookbook. So father your friends and family around a warm fondue pot and prepare to make some memories. After all, the ingredients for your next special moment are right here at your fingertips."