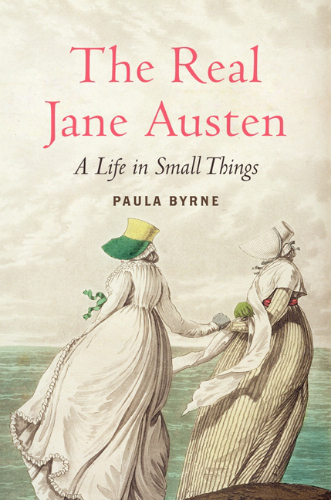 The Real Jane Austen by Paula Byrne is now available in paperback!
Jane Austen was a very gifted writer and her influence remains 200+ years after she wrote her first novel. I've read many of her novels multiple times and have seen serious and humorous movie adaptations of Pride and Prejudice. The story and characters are timeless. Even though culture has changed quite a bit in the last 2 centuries, it's still easy to relate to her characters.
While I am familiar with Jane Austen's writing, I hadn't ever studied her and didn't know much about her or her life. Since Jane's fame happened after her death, I think she would be quite shocked to realize the impact that her novels have had and will continue to have.
I enjoy biographies and thoroughly enjoyed getting to know Jane. I didn't have any pre-conceived ideas about who she was, so this author's theories were all knew to me. Whoever Jane was, I believe I would have enjoyed knowing her!
The Real Jane Austen

A Life in Small Things
By Paula Byrne
isbn 978-0061999109
Pub. date 1/7/14
Description: "Acclaimed biographer Paula Byrne explores the forces that shaped the interior life of one of the most beloved novelists in the English language: her father's religious faith; her mother's aristocratic pedigree; her eldest brother's adoption; her relatives in the East and West Indies; the family's amateur theatricals; and her determination throughout her long struggle to become a published author. The woman who emerges is far tougher, more socially and politically aware, and altogether more modern than the conventional picture. Like a superb archaeologist, Byrne uses artifacts from Jane Austen's life to craft a vivid and more complex portrait of the writer than we have ever seen."
Enter daily through the Rafflecopter form below: