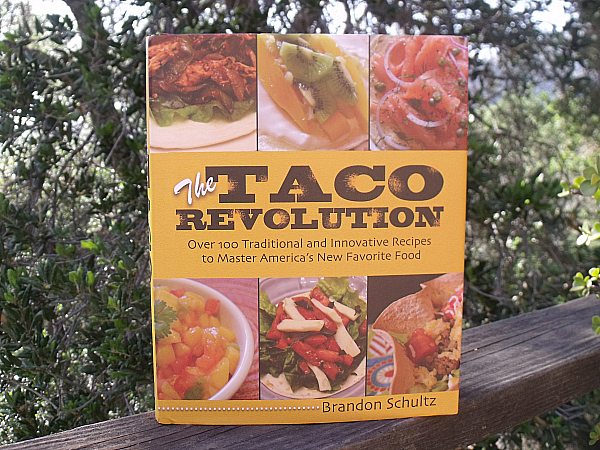 Do you like tacos? You are not alone!
When I was a kid, it became trendy to have 'taco bars' at parties. Ingredients were set out so that we could make our own tacos – store bought taco shells, seasoned ground beef, shredded iceberg lettuce, diced tomatoes, cheese and taco sauce. That was about it and we thought it was wonderful.
Nowadays, we know that there are a whole lot more options when it comes to tacos. Yes, you can enjoy something basic, but it's also fun to look at tacos in a whole new way.
In The Taco Revolution Cookbook, you'll find 100+ recipes for traditional tacos and ones that you have probably never even dreamed of. I'm a big fan of being creative in the kitchen and this book has inspired me to think outside of the box when it comes to tacos and flavor combinations. It's beautifully illustrated and will be fun for beginning and experienced cooks. You'll learn how to make tacos, tortillas, salsa and seasonings.
The Taco Revolution

Over 100 Traditional and Innovative Recipes to Master America's New Favorite Food
by Brandon Schultz
isbn 978-1628736236
Pub. date 4/1/14
Description: "The Taco Revolution is the ultimate resource for preparing America's new favorite dish. From the classic American taco and authentic Mexican recipes to the culinary curiosities of taco-stuffed shell pasta and chicken and waffle tacos, this book contains everything for beginners and old pros alike."
Here are a few of the more unique recipes that are included in the cookbook:
Cheeseburger Taco

Mac & Cheese Taco
Thanksgiving Taco
Saint Patrick's Day Taco
Tropical Fruit Taco
Enter daily through the Rafflecopter form below: