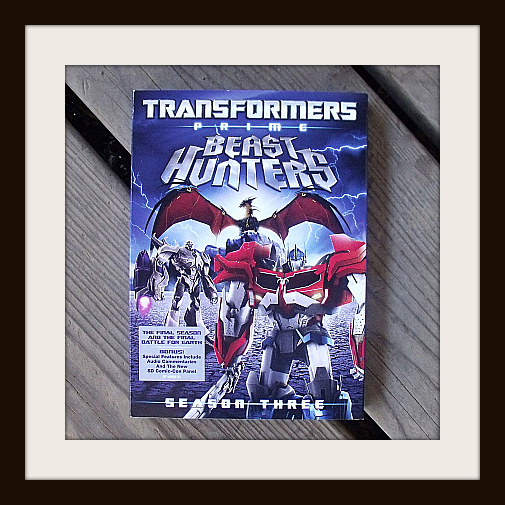 This is the third and final DVD from the Hasbro series that aired on the HUB TV Network. It contains 13 high-definition episodes, audio commentary and a special panel discussion about the series that was held at Comic-Con in San Diego this year.
It's easy to get caught up in the series. The story draws you in and the action is exciting. Fans will want to collect all three of the series DVDs and the Predacons Rising feature length movie.
This series is now over, but I'm sure Hasbro Studios will come up with a related show to keep us entertained in a new way!
Transformers Prime Beast Hunters

Season Three DVD
Shout! Factory
Release date 12/3/13
Synopsis: "The epic battle with DECEPTICONS rages on as OPTIMUS PRIME leads his team of AUTOBOTS and three teenagers – Miko, Jack and Raf in a mission to defend earth and one day restore his home planet of CYBERTRON. But DECEPTICONS' power to reign over earth has never been greater. MEGATRON and his DECEPTICONS have destroyed AUTOBOTS' base, scattering OPTIMUS PRIME and his heroic team to the wind and leaving them out of communication with one another. Meanwhile, SHOCKWAVE has come to the side of his commander, bringing with him the newest DECEPTICON weapon, a brand new faction that could turn the tide of the war in MEGATRON's favor. Can the AUTOBOTS reunite in time to defeat MEGATRON and the DECEPTICONS once and for all? Or does this new weapon mean the end for the AUTOBOTS…and Earth?"
CONNECT – You can like Shout Factory on Facebook and follow them on Twitter.
Enter daily through the Rafflecopter form below: