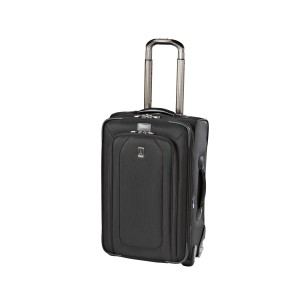 About: For over two decades, Travelpro® has prided itself on design innovation and durability in crafting the highest quality luggage for the experienced traveler. Since transforming the ease of modern day travel with The Original Rollaboard® wheeled luggage, Travelpro® has been the brand of choice for flight crews and frequent travelers worldwide.
I'm all for saving money when it makes sense, but I also want to make sure that I'm getting a quality product that is going to last.
Years ago I got all excited when I found a luggage set on sale at a large discount store – a 3 piece set for under $100. I thought it made perfect sense to go with inexpensive since we only planned on using the luggage once or twice a year. That turned out to be a very poor decision.
The main zipper on the cheap luggage broke on the way to Hawaii the very first time I used it. Fortunately, none of my belongings fell out but the suitcase was a mess. There was no way to use it for the trip home. It would have been much better to invest in good luggage before the trip.
Now I understand that luggage is an important investment. Whether you're traveling once a year or several times a week, you don't want to lose your belongings or get stuck having to purchase new luggage while you're on vacation.
TravelPro makes good luggage – very good luggage. Flight crew members and other frequent flyers choose this brand because they know it is made well.
The Business Rollaboard® Carry-on is fabulous! One look and I knew this was high quality luggage.
The bag is made from a durable, coated nylon fabric. It's not completely rigid like a hard case, but the structure is sturdy. It won't crush like the duffle bag I carried the last time I flew.
There are three main storage areas, each accessed by their own zipper. The top one is ideal for carrying a laptop and has extra padding inside. The second one is good for carrying a book and other items that you want easy access to. There's even a pocket on the outside for carrying a water bottle when I'm in the airport.
The main compartment is quite amazing. There are solid and mesh zipper pockets and a section that is perfect for hanger-type clothing that you don't want to get crushed. It's really easy to keep things organized.
The PowerScope handle extends to a comfortable position. The wheels roll smoothly. There's also a handle on the side for those times when wheels are not appropriate.
The Crew 9 Rollaboard® is going to be perfect for when I head to NYC for BlogHer this summer. I will be able to fit all of my clothing and personal items in this one carry-on bag.
TravelPro really knows their luggage. This high quality carry-on is made to stand up to repeated use and rough handling. It also has the functionality that will instantly make it a favorite!
HOW TO CONNECT – You can like TravelPro on Facebook.
Disclaimer/Disclosure: Review sample provided to me.