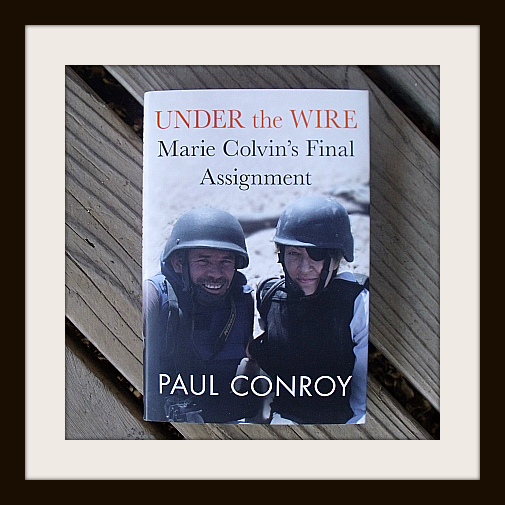 Under the Wire is the amazing true story of war correspondent Marie Colvin and photographer Paul Conroy. This assignment in Syria ended up being the last one for Marie. Paul was seriously wounded, but he made it out alive.
Here in the safety and comfort of our homes, we see images and read about what's happening in Syria and elsewhere in the world regularly. It can feel very far away and detached from our immediate reality. This book is a reminder that wars and conflicts are not just statistics and facts, these horrific events are really happening to very real people.
I know that I would not want to be a war correspondent, but understand more now about what compelled Marie, Paul and others like them to discover and share inside knowledge about what it's like to be in the midst of a modern war. I would hope that this understanding could help lead us to a more peaceful and empathetic world.
Under the Wire

Marie Colvin's Final Assignment
by Paul Conroy
isbn 978-1602862364
Pub. date 10/8/13
Description: "Marie Colvin, described by her peers as "the greatest war correspondent of her generation," was killed in a rocket attack in February 2012 while reporting on the desperate suffering of civilians inside Syria's besieged Homs. Under the Wire is war photographer Paul Conroy's gripping, visceral, and moving account of his friendship with Marie and in particular the final year he spent working alongside her. When Marie and Paul were smuggled into Syria by rebel forces, they found themselves trapped in one of the most hellish neighborhoods on earth. Marie was tragically killed by a rocket that also blew a hole in Paul's thigh big enough for him to put his hand through. Bleeding profusely, short of food and water, and in excruciating pain, Paul then endured five days of intense bombardment before being evacuated in a daring escape involving a motorbike ride through a tunnel, crawling through enemy terrain and, finally climbing a 10-foot-high wall."
Enter daily through the Rafflecopter form below: