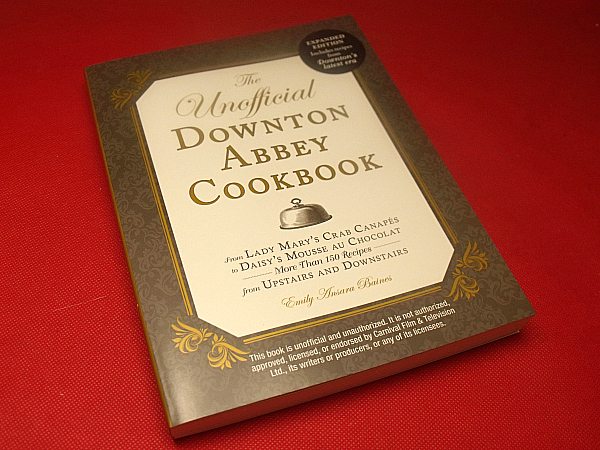 Are you a fan of the PBS series Downton Abbey? Would you like to dine like an aristocrat from Edwardian England? Does high tea or dinner at the Abbey sound like your kind of fun? If so, then this is the cookbook for you!
The cookbook is being released just in time for fans to try out some new recipes before season 5 of the series debuts in January. It takes into account the changing world in which the characters live. There are 15 new recipes in this updated version that take advantage of modern conveniences like the electric mixer and the refrigerator.
The recipes in The Unofficial Downton Abbey Cookbook are surprisingly simple to prepare. I wrongly assumed that they would be time consuming and require a trained staff to prepare, but they do not. Even though some of the recipes sound exotic, you'll be able to easily recreate them at home after stocking up on groceries at your local chain grocery store.
The recipes can be enjoyed anytime. It would also be fun to throw a Downton Abbey viewing party and serve a traditional Edwardian meal to your guests.

The Unofficial Downton Abbey Cookbook

Revised Edition
From Lady Mary's Crab Canapes to Daisy's Mousse au Chocolat–More Than 150 Recipes from Upstairs and Downstairs
by Emily Ansara Baines
isbn 978-1440582912
Pub. date 10/3/14
Description: "The only collection of recipes good enough for the Crawley family to eat! Eat like one of the Crawley family. Host an elegant afternoon tea. Treat guests to lavish six-course dinners. With this collection of delicacies inspired by Emmy Award–winning series Downton Abbey, you will feel as sophisticated and poised as the men and women of Downton when you prepare these upstairs and downstairs favorites from eras new and old. "
Here are a few of the recipes you'll find in the book:
Lord Grantham's American Italian: Risotto alla Milanese

Alfred's Ritz-Approved Vichyssoise

Daisy's Mousse au Chocolat

A Custard Tart For Isobel's Tea

Nothing to Sneer At OssoBuco for Thomas
Enter daily through the Rafflecopter form below: