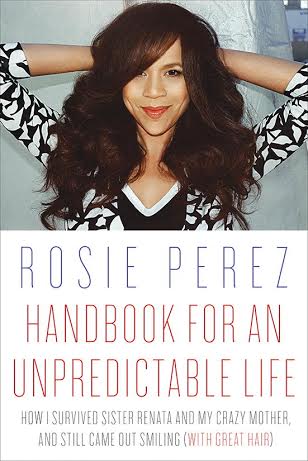 Rosie Perez has already accomplished much in her professional life. We've seen her in movies (The Counselor, Do the Right Thing, White Men Can't Jump, Fearless…) and it seems like she's always popping up in guest roles on TV shows. We've also heard her recognizable voice as animated characters on Go Diego Go, The Cleveland Show and others. She can be funny and also does well in dramatic roles.
In Handbook for an Unpredictable Life, I learned a whole lot more about this remarkable woman and her very challenging childhood. Rosie's mother, who suffered from schizophrenia, was unable to care for her and sent her to a Catholic home for boys and girls when she was three years old. She spent her childhood being shuttled between the home and the homes of assorted relatives. It was most definitely not a picture perfect upbringing.
Many with her history could have ended up broken, but Rosie has risen above. She's successful and still smiling. The book is entertaining and inspirational.
Handbook for an Unpredictable Life

How I Survived Sister Renata and My Crazy Mother, and Still Came Out Smiling (with Great Hair)
by Rosie Perez
isbn 978-0307952394
Pub. date 4/25/14
Description: "Rosie opens up and speaks truthfully about her lifelong struggle with building a relationship with a mother who repeatedly pushed her away. She speaks candidly about the clinical depression she suffered from for years; her decades-long struggle with PTSD and her unrequited longing for her mother's love. She also shares insider stories from her professional life: how her appearances on Soul Train led to her work as a trail-blazing hip-hop choreographer, culminating in her being hired to choreograph the Fly Girls on In Living Color; Spike Lee "discovering" her at a "big booty" contest at a club, which led to her being cast in her first acting role."
Enter daily through the Rafflecopter form below: