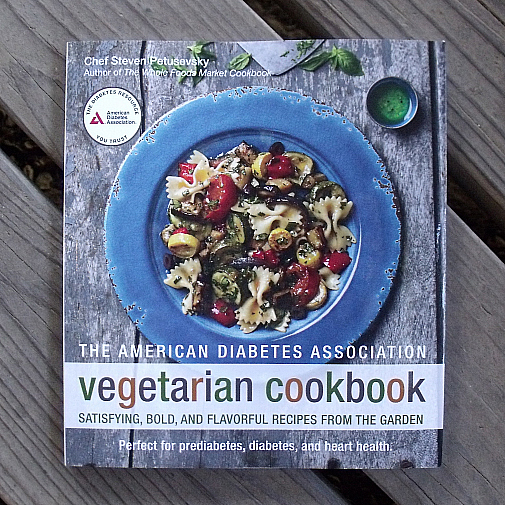 Doesn't the meal on the cover of this cookbook look fabulous? This is the Garden Party Roast Vegetables with Pasta.
This Vegetarian Cookbook features a wonderful assortment of recipes from Chef Steven Petusevsky. He uses fresh ingredients that are great for those of you who have pre-diabetes or diabetes and for people like me who aim to eat nutrition packed heart healthy foods.
A big part of healthy eating is choosing the right foods when we do our shopping and knowing how to prepare them. Chef Steve has the recipes and tips to help you shift your shopping and cooking routines to create meals that are delicious and good for your body.
THE AMERICAN DIABETES ASSOCIATION
VEGETARIAN COOKBOOK
Satisfying, Bold, and Flavorful Recipes from the Garden
By Chef Steven Petusevsky
isbn 978-158040-487-7
Pub. date 11/13
Description: "The recipes in THE AMERICAN DIABETES ASSOCIATION VEGETARIAN COOKBOOK rely on simple, fresh, and seasonal ingredients and explore how they relate to each other through taste, texture, color, and flavor harmony. Sweet, sour, salty, spicy, and bitter are the primal elements of taste that, when carefully balanced, resonate together to make every forkful tasty and enjoyable. Chefs know this as the Asian 5-Flavor Principle, which universally guides our taste buds. There was a time when stocking a vegetarian pantry was a challenge for everybody. Thankfully, it is getting easier, with access to large supermarkets, natural foods grocers, or ethnic markets. Chef Petusevsky presents Vegetarian Pantry 101, detailing the wide variety of choices available nearly everywhere today and explaining that a vegetarian pantry is really an evolution from ordinary pantries into a collection of favorite herbs and spices, condiments, dried pastas, legumes, vinegars and oils, grains, alternative proteins, and more."
Enter daily through the Rafflecopter form below: