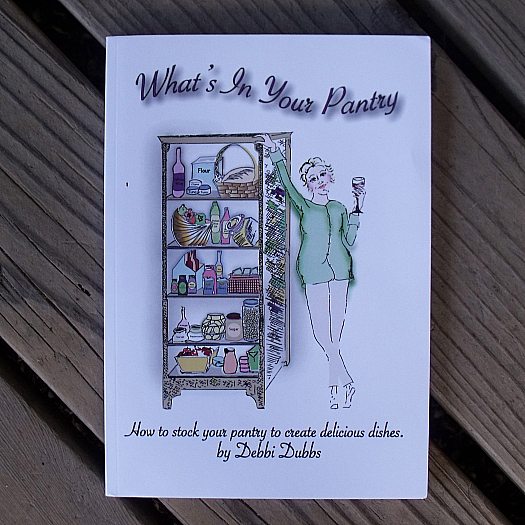 How many times have you gone into your kitchen to prepare a meal only to realize that you were lacking key ingredients?
It's no fun to make a special trip to the store at the last minute. That's especially true for me, since I'm in a rural area and it's over 20 miles round trip to the nearest grocery store. Even if it's a short drive, it's easier and cheaper to plan ahead for what you'll need.
Chef Debbi is a chef, teacher, event planner, culinary tour leader and Southern California blogger. She knows how to keep organized and has a love for all things food.
What's in Your Pantry starts out with helpful lists for basic, versatile foods to keep on hand, suggestions for herbs that are easy to grow in a pot, and information on how to choose your kitchen tools and equipment.
She follows that up with basic recipes that you can use throughout the year along with recipes for each of the four seasons. A list of seasonal produce is included at the beginning of those chapters. She uses fresh ingredients along with pantry basics. The recipes are clearly explained and most can be prepared by novice home cooks.
As long as you've got the ingredients on hand, once you know the basics it's fun to get creative in the kitchen!
What's In Your Pantry

by Debbi Dubbs
isbn 978-1425182168
Pub. date 2/26/09
Description: "an easy to follow guide to keeping your pantry stocked with basic ingredients. By stocking essential ingredients you'll be able to create delicious dishes with or without a recipe. Debbi offers a simple approach to cooking; she shares tips and insider secrets to substituting ingredients from your well-stocked pantry, to her basic recipes for quick and easy meals."
CONNECT – You can follow Chef Debbi on Twitter.
Enter daily through the Rafflecopter form below: