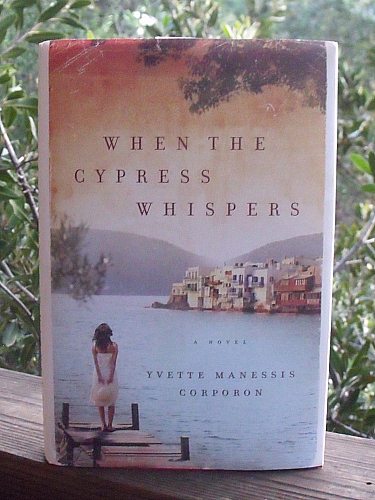 When the Cypress Whispers is a great read. This is what I consider a 'vacation book'. It's a nice escape that you can read at the beach, on the porch or anywhere else that feels like an escape. It will take you to another place and cause you to think and reflect.
The author, Yvette Manessis Corporon, has been working in television news for over 20 years. She has travelled extensively and is currently a senior producer for EXTRA. Her parents are Greek immigrants, which, I'm sure, helped her to craft this believable fictional novel about an American woman who has a special bond to family in Greece.
It was interesting to get to know the characters and the setting of the story is beautiful. While enjoying this story, I also thought about my own family connections.
When the Cypress Whispers

by Yvette Manessis Corporon
isbn 978-0062267580
Pub. date 4/1/14
Description: "On a beautiful Greek island, myths, magic, and a colorful cast of mortals come together in a lushly atmospheric debut celebrating the powerful bond between an American woman and her Greek grandmother. The daughter of Greek immigrants, Daphne has been brought up to believe in the American dream. When her husband dies in a car accident, leaving her with an inconsolable baby and stacks of bills, she channels everything she has into opening her own Greek restaurant. Now an acclaimed chef and restaurateur, she has also found a second chance at love with her wealthy, handsome fiancé."
Enter daily through the Rafflecopter form below: