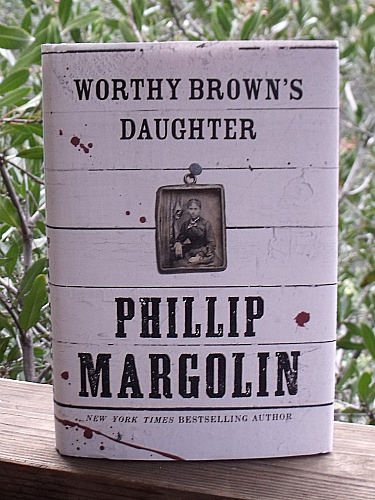 While I thoroughly enjoy reading a wide variety of books, my favorite genre would have to be thrillers. I especially enjoy the smart ones that keep me guessing throughout the story.
Philip Margolin knows exactly how to write the kind of books that I like to read. I have enjoyed several of his previous novels including Sleight of Hand, Capitol Murder and others. Now there is Worthy Brown's Daughter, which is also enjoyable but different than the others.
Worthy Brown's Daughter is a legal thriller, but it's set in the 19th Century in the Oregon Territory and is inspired by an actual court case. It is a fictional novel, but has it's basis in actual events that give us a taste of American justice and racism in the old west. Margolin took over two decades to write this novel and it is a success! The book is fantastic!
Worthy Brown's Daughter

by Phillip Margolin
isbn 978-0062195340
Pub. date 1/21/14
Description: "Like thousands of other Americans in the nineteenth century, Matthew Penny, a young lawyer, believes that he and his wife, Rachel, can forge a better future out West. But after she drowns on the Oregon Trail, Matthew arrives on the frontier with nothing but shattered dreams. Unable to face the memories that await back home, he joins the handful of lawyers practicing in Portland, Oregon—which in 1860 is just a riverfront town in a state less than a year old. Worthy Brown, a slave from Georgia, journeys west with his master, Caleb Barbour, who promises to reward Worthy and his daughter, Roxanne, with their freedom if they help him establish a homestead in Oregon. When Barbour reneges on his pledge, Worthy's hope for a fresh start with his child is destroyed."
Enter daily through the Rafflecopter form below: