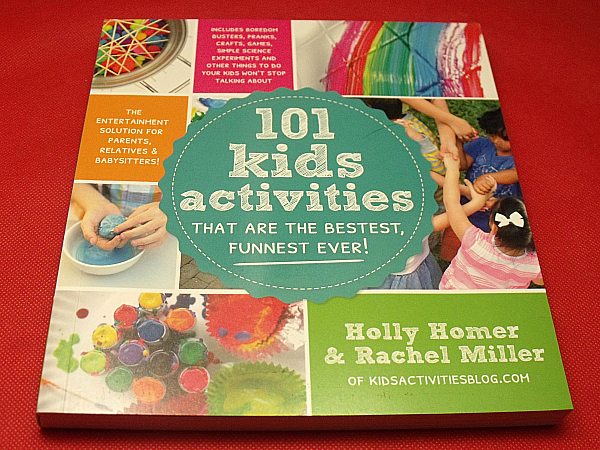 Childhood is a wonderful time of life that can be full of fun and discovery, unless your kids are sitting on the sofa whining about being bored. Sometimes they need a little push in a good direction.
101 Kids Activities solves the boredom problem and can help keep kids engaged in fun and enriching activities.
The book is a result of the combined efforts of Holly Homer and Rachel Miller who you may already be familiar with. They are responsible for the successful Kids Activities Blog and have put together this great collection of fun things that your kids can do on their own or with a parent or other caregiver.
They've included many activities that you won't find on the blog. There are games, crafts and science experiments for active and calm play for little kids and bigger kids.

101 Kids Activities That Are the Bestest, Funnest Ever!

The Entertainment Solution for Parents, Relatives & Babysitters!
by Holly Homer and Rachel Miller
isbn 978-1624140570
Pub. date 6/10/14
Description: "Never again will you hear the all-too-common call of, "I'm bored!" with this kid-pleaser for many ages. Whether your kid is 3, 5 or 12 years old, there are hundreds of fun, educational and engaging things to do in this book. When they ask to watch television, you'll have the perfect solution. 101 Kids Activities That Are the Bestest, Funnest Ever! has time-tested, exciting activities to keep your children laughing and learning for the whole day, every day."
Here are a few of the activities that caught my eye:
Edible Play Dough
Homemade Paint
Shoe Box Pinball
DIY Bouncy Ball
Enter daily through the Rafflecopter giveaway form below: