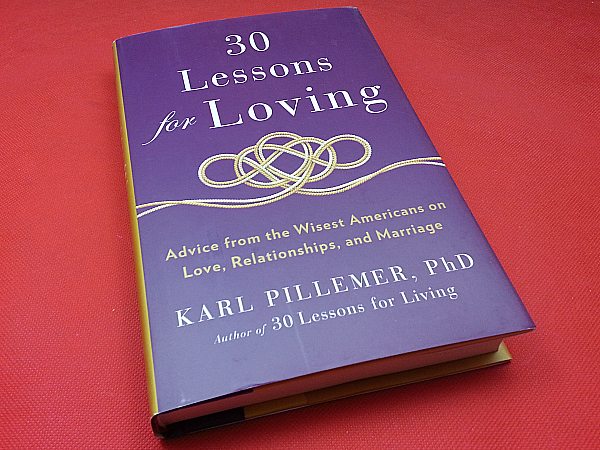 Do you imagine yourself growing old with your partner, still loving each other after a lifetime of shared memories?
These long lasting relationships don't happen by accident.
Several years ago, Dr. Karl Pillemer published the bestseller 30 Lessons for Living. It includes practical advise from real people based on their life experiences. The most popular parts of that book are the sections of love, relationships and marriage.
30 Lessons for Loving is the newly released sequel that has more in depth advice from people who have relationships that have stood the test of time. They share what they have learned about every stage of their relationships, from the early years to after they had been together for decades.
Relationships aren't always easy, but it's great to be able to learn about the good stuff and the hard stuff from people who have been there and succeeded!

30 Lessons for Loving

Advice from the Wisest Americans on Love, Relationships, and Marriage
by Karl Pillemer Ph.D.
isbn 9781594631542
Pub. date 1/8/15
Description: "Based on the most detailed survey of long married people ever conducted, 30 Lessons for Loving shows the way to lifelong, fulfilling relationships. The author, an internationally renowned gerontologist at Cornell University, offers sage advice from the oldest and wisest Americans on everything from finding a partner, to deciding to commit, to growing old together. Along the way, the book answers questions like these: How do you know if the person you love is the right one? What are the secrets for improving communication and reducing conflict? What gets you through the major stresses of marriage, such as child-rearing, work, money issues, and in laws? From interviews with 700 elders, 30 Lessons for Loving offers unique wisdom that will enrich anyone's relationship life, from people searching for the right partner to those working to keep the spark alive after decades together."
Enter daily through the Rafflecopter giveaway form below: