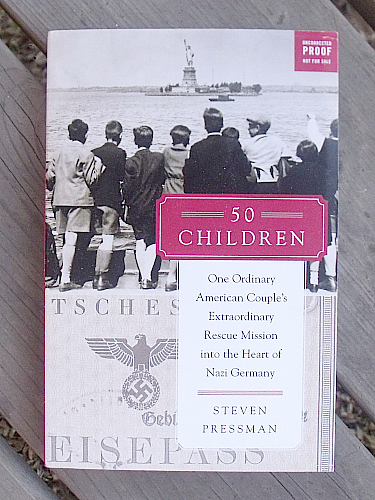 Millions of people died in the Holocaust.
Millions.
Thanks to an American couple, Gilbert and Eleanor Kraus, 50 children lived.
On the surface, they may have appeared to be unlikely heroes. Mr. Kraus was a successful attorney and the couple was living a privileged life. When they learned what was happening in Germany in Nazi-occupied countries, they knew they had to do something.
This couple travelled to Germany and Austria and successfully rescued 50 children. Their journey wasn't easy, but people are alive today because of their courage, compassion and determination.
This moving book made me cry and gave me hope. Hearing the personal stories brings this horrific period of not-so-distant history to life. I'm thankful that the Kraus's and others like them had the courage and conviction to do what had to be done.
50 Children

One Ordinary American Couple's Extraordinary Rescue Mission into the Heart of Nazi Germany
by Steven Pressman
isbn 978-0062237477
Pub. date 4/22/14
Description: "In early 1939, few Americans were thinking about the darkening storm clouds over Europe. Nor did they have much sympathy for the growing number of Jewish families that were increasingly threatened and brutalized by Adolf Hitler's policies in Germany and Austria. But one ordinary American couple decided that something had to be done. Despite overwhelming obstacles—both in Europe and in the United States—Gilbert and Eleanor Kraus made a bold and unprecedented decision to travel into Nazi Germany in an effort to save a group of Jewish children."
Enter daily through the Rafflecopter form below: