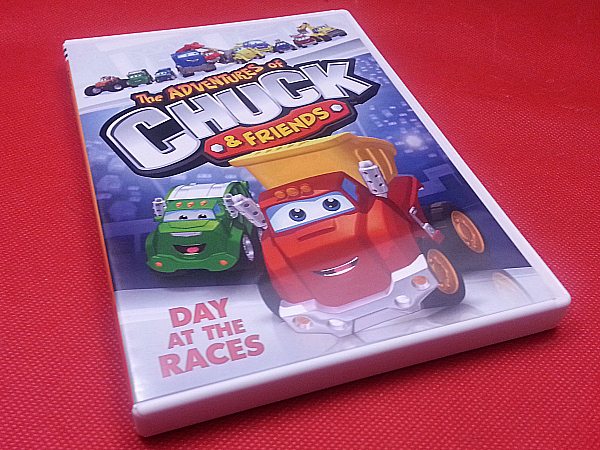 Day at The Races is a fun DVD that entertains and encourages active, imaginative play.
The Adventures of Chuck and Friends airs on The HUB Network in the US and Treehouse in Canada and is brought to us by Hasbro Studios. With some kids programming, the toys seem to be an afterthought. With Hasbro Studios, the show and the toys are more connected and enhance the whole experience. The DVD involves children in a more active way and they'll also be encouraged to use their own imaginations more as they play with the toys.
Day at the races has a focus on teamwork and friendship. Mom's will especially appreciate the episode where Chuck and his buddies create the perfect Mother's Day gift. Perhaps this will encourage your kids to come up with something creative for the holiday.
The Adventures Of Chuck And Friends

Day at the Races
Shout! Factory
Release date 5/19/15
Synopsis: "Everybody, on your mark… get set… and race your way to fun with Chuck and his very best friends — Digger, Handy, Rowdy, Biggs, Boomer and Flip! Join the gang as they race each other to win a radio contest, form and astronomy club, create the perfect Mother's Day gift and more. Strap yourself in, sit back and enjoy the ride!"
Day at The Races includes 10 adventures and a bonus sing along:
Contest Countdown
Tough Break
The Short Cut
Race To The Race
Join The Club
Rowdy's New Rigg
The Registers
Mother of All Gifts
Wallbashers
Kid Stuff
SOCIAL MEDIA – You can connect with Shout Factory! on Facebook and Twitter.
Enter daily through the Rafflecopter giveaway form below:
a Rafflecopter giveaway