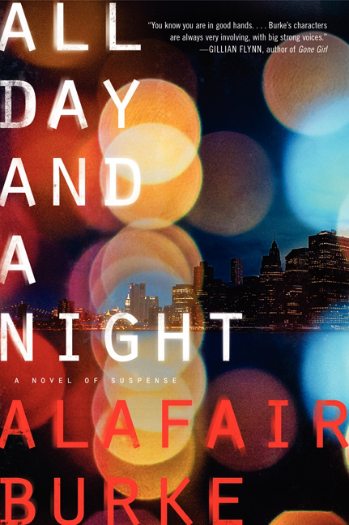 I love reading a wide variety of books, but psychological thrillers are my favorite genre. I love the suspense and enjoy trying to guess how the plots will twist. It's most entertaining for me when the author surprises me and the story takes off in a direction I didn't expect.
Alafair Burke knows how to craft a story just the way I like it! In addition to being a novelist, she has experience as a prosecutor in the courtroom and police stations. This inside knowledge helps her create stories with details that feel realistic.
In All Day and A Night, we get to follow along with two strong female lead characters, Detective Ellie Hatcher and Prosecutor Carrie Blank. They are both driven, intelligent and ready to discover the truth at all costs.
This is another page turner that is hard to put down once you start reading.
All Day and a Night

A Novel of Suspense
by Alafair Burke
isbn 978-0062208385
Pub. date 6/10/14
Description: "The latest story dominating New York tabloids—the murder of Park Slope psychotherapist Helen Brunswick—couldn't be further from Carrie Blank's world handling federal appeals at one of Manhattan's most elite law firms. But then a hard-charging celebrity trial lawyer calls Carrie with a case she can't refuse. Anthony Amaro, a serial killer convicted twenty years earlier, has received an anonymous letter containing a chilling detail about Brunswick's murder: the victim's bones were broken after she was killed, the same signature used in the murders attributed to Amaro. Now Amaro is asking to be released from prison. Carrie has a reason to be interested. Her older sister, Donna, was one of Amaro's victims. Determined to force the government to catch Donna's real killer, Carrie joins Amaro's wrongful conviction team with her own agenda."
Enter daily through the Rafflecopter form below: