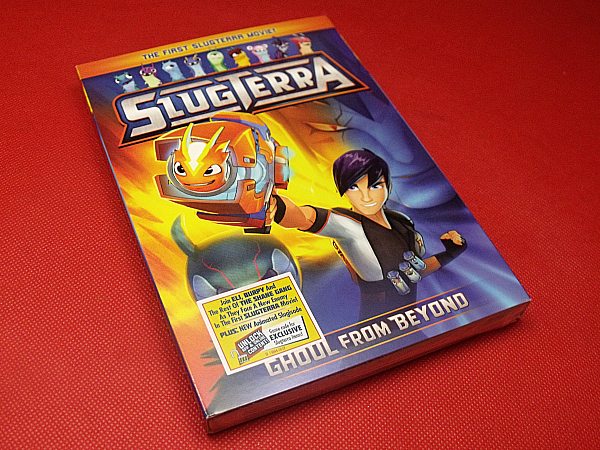 Do your kids enjoy watching episodes of Slugterra? Now, there is a whole new way to enjoy these dueling slugs.
Ghoul From Beyond is the first feature length movie from Slugterra. The movie is based on the TV show and contains many of the same characters and the same type of animated adventures that fans expect. Of course, there are exciting new features as well.
You'll get to meet new characters and see them engage in intense and exciting new battle sequences. The show is all for fun, but really does get kids worked up and excited about fighting against evil and doing good things for the world.
Ghoul From Beyond is almost 2 hours long. The DVD also includes a bonus "slugisode" – Burpy and Friends Take a Dive. It's not rated and is probably best for elementary school age kids.
Slugterra: Ghoul From Beyond

Shout! Factory
Release date 6/10/14
Synopsis: "Just when the evil Dr. Blakk has been defeated and it seems like Eli Shane's duties as protector of Slugterra are getting easier, a new danger emerges from beyond the 99 caverns. Eli and the Shane Gang rush to the rescue, but nothing can prepare them for what they encounter: a slug that can do something no one in Slugterra has ever seen — or heard — a slug do before! Traditional slugslinging no longer applies. Eli will have to engage in a very different kind of duel to save Slugterra…and himself!"
Enter daily through the Rafflecopter form below: