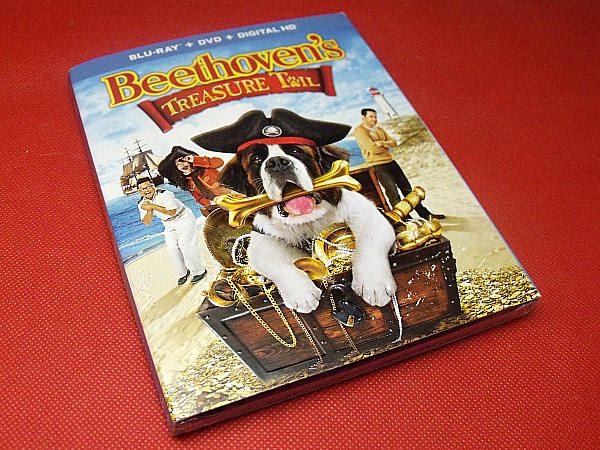 Beethoven is back for another fun and hilarious adventure! This large and lovable St. Bernard has been entertaining families for over a decade. There are many movies in the Beethoven Film Series and each one is a delight.
The latest movie in the series, Beethoven's Treasure Tail, features a beautiful beach, a pirate map and buried treasure. There is action, adventure, laughter and heart warming drama.
The movie is rated PG for the action scenes and humor style. Most parents will probably be fine with having even their little ones watch it over and over again.

Beethoven's Treasure Tail

Rated PG
Release date 10/28/14
Synopsis: "Get ready to howl with laughter in this all-new family comedy starring America's favorite St. Bernard, the one and only Beethoven! After a doggone disaster of a movie shoot, the big-hearted pooch and his trainer, Eddie, are heading home when they get stranded in a small coastal village. When Beethoven befriends a local boy, he helps him find a pirate map to lost treasure and together they em-bark on an adventure that brings the whole town together. Co-starring Morgan Fairchild, Kristy Swanson, and Jeffrey Combs, it's a heartwarming "tail" about finding fun wherever your nose leads you."
Enter daily through the Rafflecopter form below: