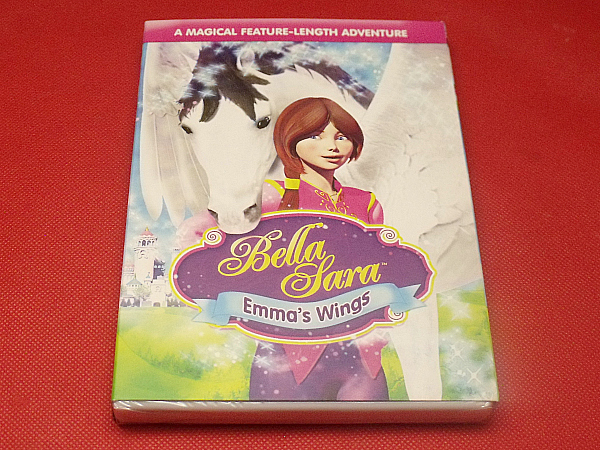 Do you have a Bella Sara fan in your house? This trading card game first arrived in 2006. Instead of being based on battles and competition, as other card games are, this one is different. The Bella Sara cards feature mystical and magical horses, special friends and positive, uplifting messages. There is also an online component to the game where kids can care for their horses.
Emma's Wings is a feature length movie based on the trading cards and online world. The strong female characters and magical horses make this a fun adventure. The message is positive and empowering.
The movie is not rated, but has the Dove Family Approved Seal. Preschoolers will enjoy it and so will older kids. The story is complex enough for elementary school age kids who will appreciate this. It's fun for kids who are already familiar with Bella Sara and just may get new fans to want to play the card game, as well.

Bella Sara: Emma'a Wings

Not Rated
Release date 4/8/14
Synopsis: "The first ever feature-length movie based on the trading card sensation, takes viewers on a magical journey to "North of North," a mythical, horse-filled land where earthling Emma comes face to face with the evil Ivenna, who is out to destroy the herds, steal their magic, and take possession of the land herself. Now, it's up to Emma (the voice of rising country music star MacKenzie Porter) and her new friend, Sara, to overcome all odds, rescue the horses and learn her true destiny."
Enter daily through the Rafflecopter form below: