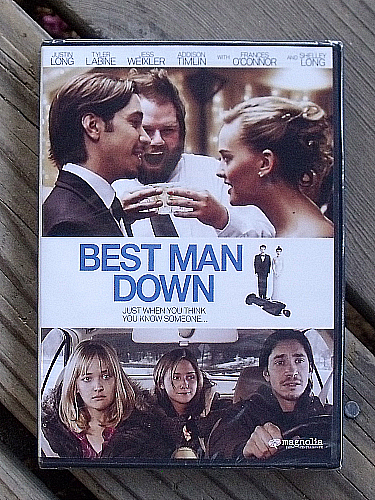 Best Man down is a quirky and heartwarming romantic comedy. It's entertaining, thought provoking and has some good lessons thrown in.
The movie stars Justin Long and Jess Weixler as newlyweds and Tyler Labine as their best man. When the character played by Tyler passes away during the wedding festivities, plans change. Instead of a honeymoon, they shift gears and work on taking care of plans and arrangements for a funeral.
This new and unexpected direction leads the newly married couple to new discoveries about themselves, their relationship and their friend.
The movie is rated PG-13 and that makes sense to me. This would be a good movie for date night or for a girl's night in. It's one of those movies that can spark some interesting conversations.
Best Man Down

Rated PG-13
Release date 1/21/14
Synopsis: "When their obnoxious and over-served best man, Lumpy, unexpectedly dies at their destination wedding in Phoenix, bride Kristin and groom Scott are forced to cancel their honeymoon and fly home to the snowy Midwest to arrange for his funeral. But getting Lumpy's body back to Minneapolis is just the start of their adventure, as the well-intended sacrifice surprises at every turn. And when the newlyweds' path leads them to a fifteen-year-old girl in a small, northern Minnesota town – all bets are off on who Lumpy really was."
Enter daily through the Rafflecopter form below: