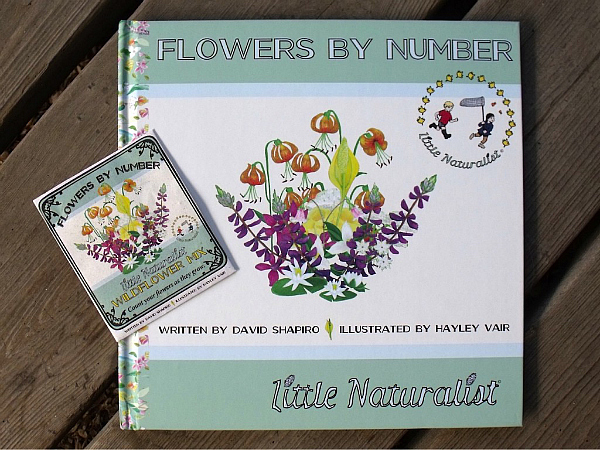 Flowers by Number

Little Naturalist
Written by David R. Shapiro
Illustrated by Hayley Vair
isbn 978-0984442287
Pub. date 4/19/13
Teaching young children new things can sometimes be a bit of a challenge–especially if these things are crucial to their everyday life. As a parent you always want to teach your child the best you can without overwhelming them. One of the small but crucial lessons we ought to teach our kids is learning to count. Having the ability to count at an early age–greatly benefits young children in the sense that it prepares them for school lessons and boosts their confidence when they have a better understanding of what is being taught.
I came across a very neat children's book that teaches numbers as well as different types of wildflowers. Flowers by Number (Little Naturalist), teaches children to count from 1-10 as well as the common and latin names of flowers. Each page has a new number and a new flower that connects to the number due to its appearances such as the amount of petals it has.

The cover itself doesn't portray the book as a children's book and the simplicity of its illustrations are just wonderful. I really like that both children and adults can enjoy "Flowers by Number". I certainly liked learning about wildflowers I didn't even know existed.
As I mentioned earlier, each flower is chosen to be paired up with a number due to its features. For example, Trillium flowers have 3 petals, 3 leaves, and 3 bracts. Catch my drift now? This book also lets us know where the flowers grow and originate from. I have to say–this book has a decent amount of information for how short and simple it is.
The author(David Shapiro) and illustrator(Hayley Vair) of Flowers by Number both live in Portland, Oregon and make a fabulous team. I love the simplicity of David's writing and I love the very detailed illustrations that Hayley provided. Her drawings almost look like real pictures. Anyone who considers themselves a naturalist or is simply looking for new artistic and creative way to teach their children how count will absolutely love this book!