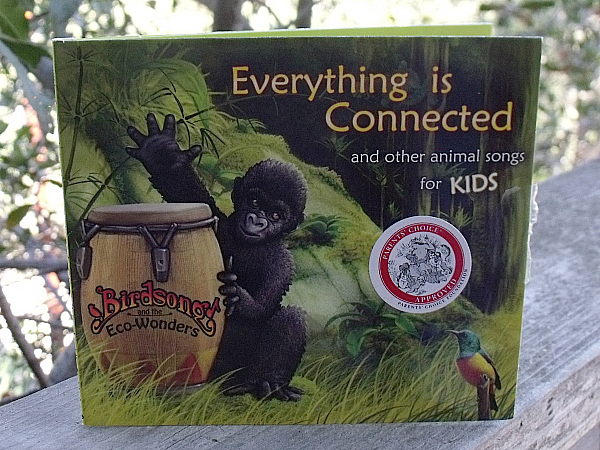 Hooray – it's another fabulous CD from Birdsong & The Eco-Wonders!
The music itself is fun and the lyrics will help expand the hearts and minds of those who hear them. The CD is for kids, but really can be enjoyed by all ages.
With their previous CD, If I Were A Fish, we got to learn all about fish, otters, whales, sharks, tide pools, kelp forests and ocean conservation. In Everything Is Connected, we learn about animals, plants, habitats and how we all fit together.
Birdsong & the Eco-Wonders
Everything Is Connected CD

Release date 11/30/12
There are 12 fun tracks on the CD:
Leaders of the Pack

The Flowers Have Gone Wild
Worm Poop Song
Earth Is Our Home
Orcas
Bella the Gorilla
Little Pocket Mouse
Plant a Habitat
Everything is Connected
I Almost Kissed a Butterfly
Honk, Honk!
Adapt to the Habitat
They are full of energy. It's a pleasure to listen to the music and these songs were just made for singing along. The rhythms and words are catchy and actually contain some good nature facts. Kids are absolutely capable of learning while they are having fun!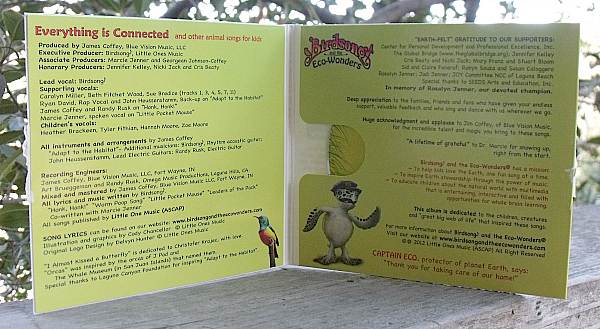 CONNECT – You can like Birdsong on Facebook.
Enter daily through the Rafflecopter form below: